PS60 Digital Synthesizer
SPECS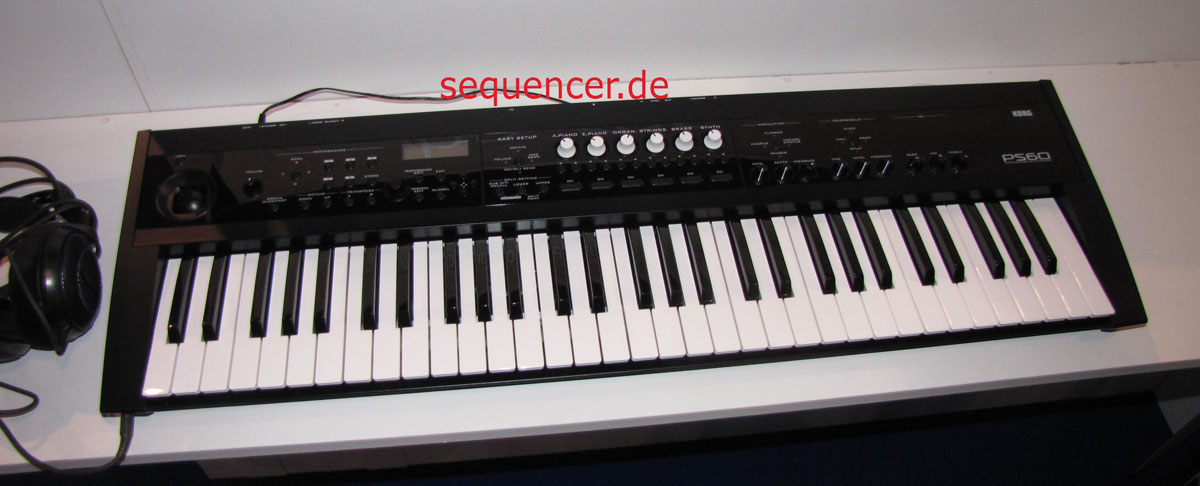 Korg PS-60
click image to enlarge - Bild klicken zum vergroessern
other KORG gear..


ABOUT much like the MicroStation but without Sequencer.

360 multisamples, 484 drum samples (including 24 stereo)
ABOUT Fast eine Workstation, sehr ähnlich der MicroStation nur ohne Sequencer und einer einfachen FX Sektion, gleiche Klangengine (Struktur)

360 multisamples, 484 drum samples (davon 24 stereo)
ABOUT
DETAILS like MicroStation but without the Sequencer but with large Keys

Has 2 LFOs per OSC (layer) plus 1 common LFO (below audio speed), when 2 OSCs in use there are 60 voices available but 2 filters per OSC. so it's OSC - filter - amp and 2 LFOs per voice/layer and 2 layers are possible. the missing EG is for pitch modulation.

no MIDI thru.

can be set to splits and there's an a/b switch for each of the 6 slots.
DETAILS wie Microstation aber ohne Sequencer und mit großen Tasten.

2 LFOs und "common LFO" pro Struktur, bei 2 OSCs halbe Stimmenzahl (60) aber auch 2 filter pro OSC (also 4) für einen Double Sound..

es gibt also pro layer/stimme (2 layer sind maximal) JEWEILS 2 LFOs, filter und amp - so ergeben sich 5 LFOs / Hülkurven (eine ist für Pitch Mod)

LFO ist unterhalb Audiogeschwindigkeit (keine FM)

MIDI thru fehlt

splitbar und pro 6 zonen erneut umschaltbar.
DETAILS
SOUND allrounder for standards of all kind
SOUND Standardsounds
SOUND
VERSION MicroStation: 5 Octaves small Keys, but with Sequencer or PS60 without Sequencer but with large (standard) keys
VERSION MicroStation: 5 Oktaven kleine Tasten, aber mit Sequencer oder PS60 ohne Sequencer aber große Tasten
VERSION