X50, micro X Digital Synthesizer
SPECS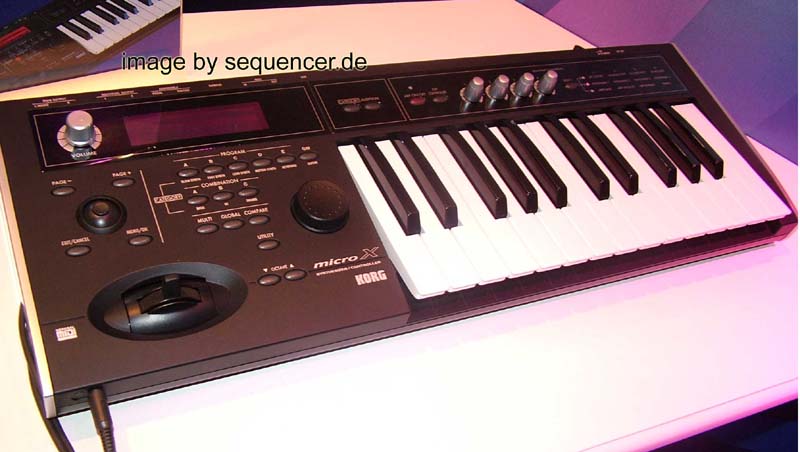 thx korg.de o.m. for X50 / microX
click image to enlarge - Bild klicken zum vergroessern
other KORG gear..


ABOUT like triton, but smaller..
ABOUT miniversion des Triton LE.. besonders die kleine Version erinnert an den Micropreset (optisch) und hat eine clubtaugliche 2okt. Tastatur, der große X50 hat "normale" 5 Oktaven.
ABOUT
DETAILS and ROM+your own RAM samples, 8 insert and 2 master FX and 2 filters with resonance (LPF only or no reso LPF+HPF), 3 complex envelopes ( filter, amp) for 2 layers (thats why it's 2x each env type) plus pitch for both. optional Board for Z1 with 6 voices (incl all features)
DETAILS ROM+eigene sample Sounds mit 8 insert + 2 master FX aber nur 2 Filter mit LPF + Resonanz oder LPF+HPF ohne Reso - die komplexen hüllkurven teilen sich auf ein doppel-layer auf, denn jede der sektionen hat je einen (filter, lautstärke) und gemeinsamer pitch-env. optional ein kompletter Z1 mit 6 Stimmen.
DETAILS
SOUND real good tiny allround bread and butter stuff- well 2 octaves is a bit small.
SOUND Guter akompakter Allround Brot und Butter, Röchelkram, typisch Korg, 2 Oktaven sind etwas knapp, aber die Richtung stimmt.
SOUND
VERSION X50: 5 oct., microX: 2 octaves
VERSION X50: 5 oktaven, microX: 2 oktaven , leider keine 3 oktaven version.
VERSION