K2500, K2600 Sampler + workstation sequencer
SPECS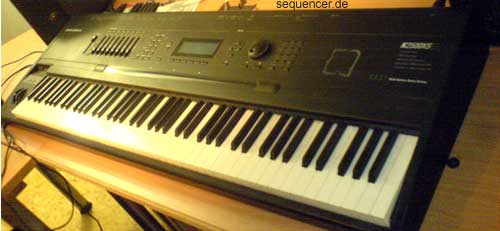 Kurzweil K2600
click image to enlarge - Bild klicken zum vergroessern
other KURZWEIL gear..


ABOUT like a double K2000 , more FX and more sliders along with ribbon controller. VAST architecture was the name of the dynamic system that offered several "algorithms" with filter and osc structure with ROM sounds and samples of your own, so it was very flexible. K2600 with complex effect processor (4 busses)

differences K2500-K2600:
K2500: ROM 8MB-28MB
K2600: ROM 12MB-44MB, made in 1999 and later
ABOUT wie K2000 "doppelt" , mehr FX und mehr regler und ribbon controller. VAST nannte sich das Konzept und ist ein recht flexibles System mit Hüllkurven und Filtern in halboffener Struktur in einem Sampler, der auch etwas im ROM hat und damit an den Emu Esynth erinnert. K2600 mit aufwendigem Effektprozessor (4 bus).

Unterschied:
K2500: ROM 8MB-28MB
K2600: ROM 12MB-44MB, 1999 gebaut.
ABOUT
DETAILS varible system that offered misc. osc, filter and other modules that use 1-4 units of DSP power, so some have more filtering features others are more osc based etc.. so there is no abolute number of filtertypes etc. Sequencer and Sample AD converter were optional (!) Reads many Formats like Ensoniq, Roland, S1000 and WAV..
DETAILS flexibles System mit Rechenleistungen pro Modul von 1-4, durch wahl eines Algorithmus kann man verschiedene Oszilatoren, Filter und andere Module nutzen, die natürlich auch Grenzen hat.. daher sind Hüllkurven und Filteranzahl und vorallem Typen variabler als in anderen Samplern. Sequencer und Sample AD waren optional (!), Liest viele Formate wie Ensoniq, Roland, S1000 und WAV..
DETAILS
SOUND flexible sampler / sample workstation
SOUND flexibler sampler / sample workstation
SOUND
VERSION misc. software versions (sequencer) and modules: sample section was also optional along with sample edit software.

K2500: ROM 8MB-28MB
K2600: ROM 12MB-44MB
VERSION div Softwareversionen und Ausbaustufen , Sample-Option ist optional

K2500: ROM 8MB-28MB
K2600: ROM 12MB-44MB
VERSION