Elements Analog Synthesizer
SPECS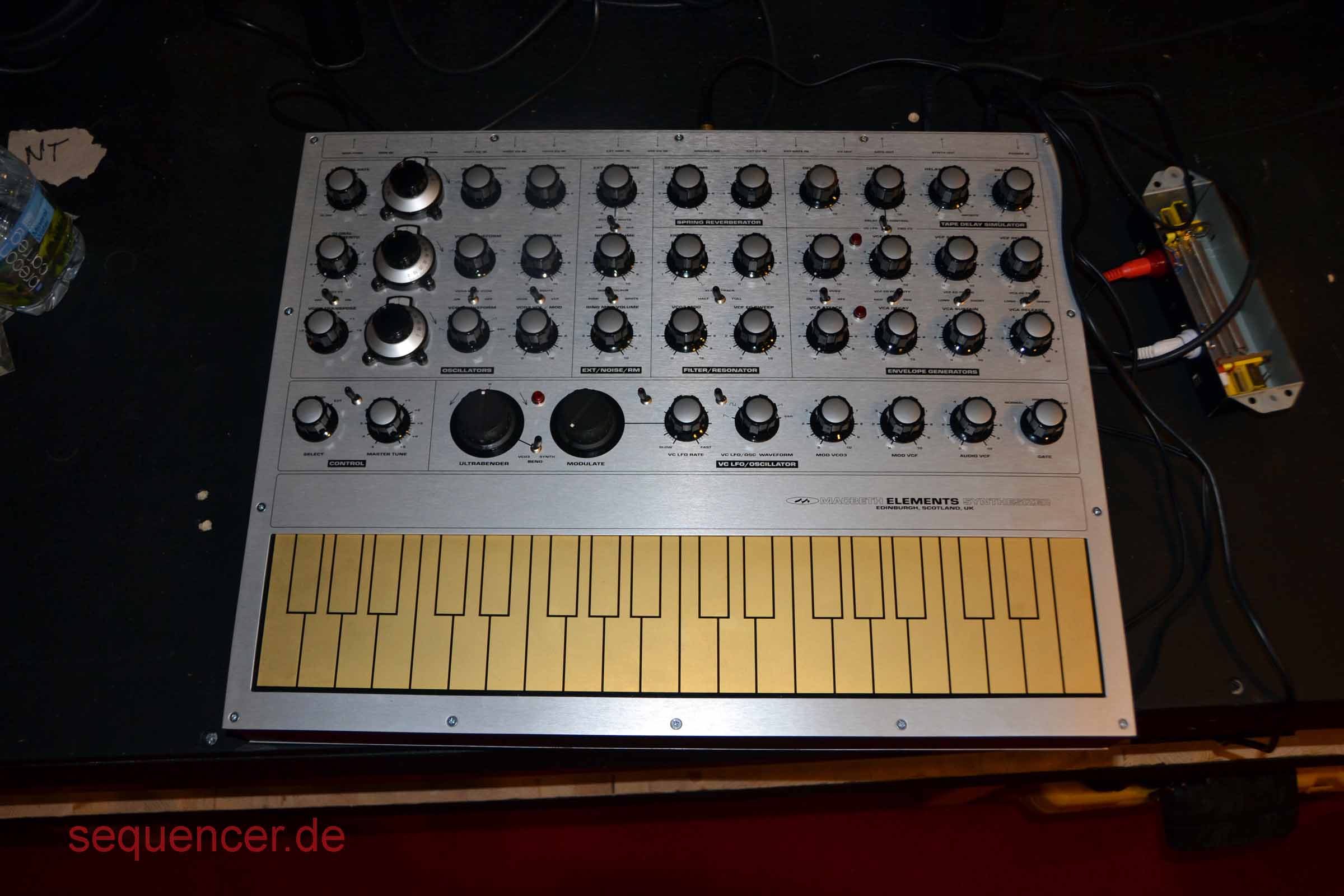 Elements
click image to enlarge - Bild klicken zum vergroessern
other MACBETH gear..


ABOUT luxury synth that reminds slightly of EMS with a very performance oriented non-matrix-pin concept.

EMS means optically, the synth itself has a fine unique sound - the concept is a bit inspired but not anywhere near a clone, just to tell.
ABOUT Absoluter Luxus-Synthesizer mit Anleihen zu EMS wegen des Metallkeyboards.
Das Konzept kommt ohne Matrix und Pins aus.

Der Klang ist edel. Übrigens gibt es klanglich keine Anleihen, das ist nur die Optik und Konzept.
ABOUT
DETAILS also features spring reverb and tape delay

special:
Enhance - setting of the Waveforms in VCO 1 & 2 with tempo setting (!)

VCO3 has s/h additional to the others which is unique - because it also works as a MOD OSC (for FM etc)

LFO has Repeat/Hold-Setting!

VCOs can be CV'ed externally (each).
spring reverb output

Env speed for each in 2 modes (short/long)
DETAILS Mit Spiralhall und Tape Delay

Besonderheit:
Enhance Wellenform-Stellung mit Tempo (!!)

OSC 3: hat S/H zusätzlich. Das ist für einen VCO ungewöhnlich.

LFO hat Repeat/Hold-Stellung!

VCOs haben jeweils eigenen CV Eingang.
extra: Hallausgang

2 Schalter für Hüllkurvengeschwindigkeit (pro ENV)
DETAILS
SOUND High Quality synth with fast patching and therefore made for performance
SOUND Performance und schnelles spielen mit der Metalltastatur und edler Sound.
SOUND