Mellotron , M400 Sampler
SPECS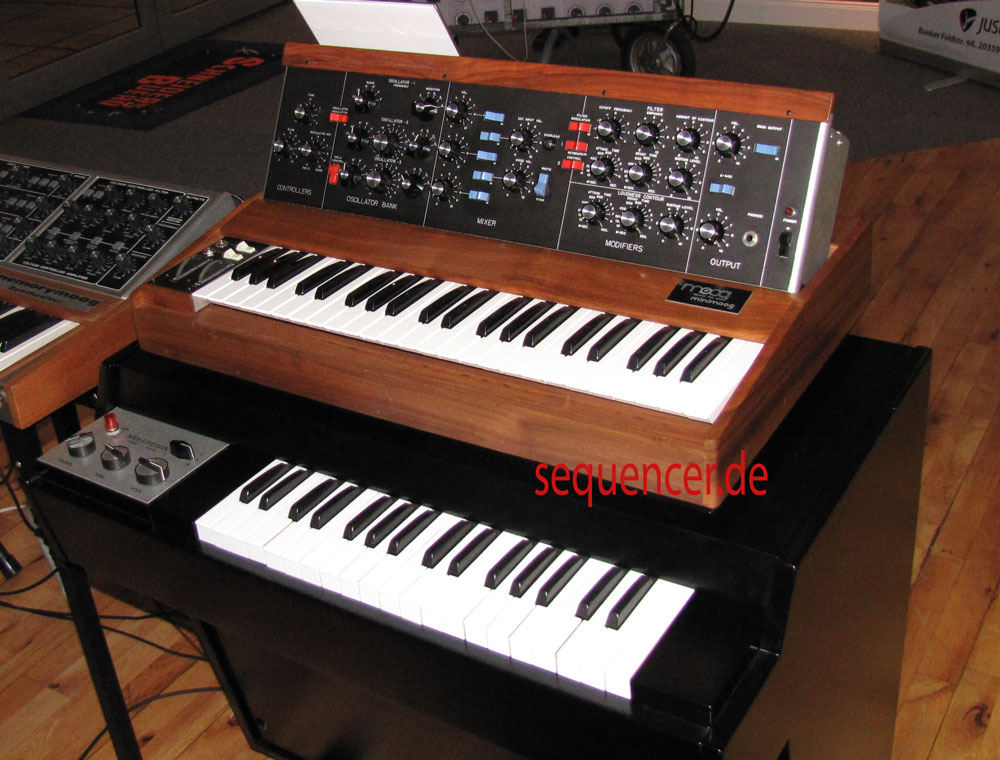 BOTTOM: typical M400 Model (most of them in white) - The Mellotron (not Melotron)
click image to enlarge - Bild klicken zum vergroessern
other MELLOTRON gear..


ABOUT well, a real circuit bending victim - it's very lofi - so it got famous in the late 2005..
ABOUT ein kleiner Sampler ,der sehr sehr gern benutzt wird, um ihn zu modifizieren..
ABOUT
DETAILS analog tape frames with one tape loop for each key.

3 sound sources playable and there is a half speed mode which does this very very special sound used on so many early electronic and other albums from OMD to Kraftwerk oder the Beatles.
DETAILS analoge Bandrahmen mit 35 und mehr Bändern (pro Taste ein Rahmen).

Überblendungen zwischen 3 Quellen möglich inkl. absenkung der Geschwindigkeit für DEN speziellen Sound "Half Speed".
DETAILS
SOUND special sound, quite "lofi" in a way but very characteristic, very collectable but very very service intense. but much more than just a "tape based sampler". almost any tape series got famous.
SOUND sehr spezieller Sound, bekannt für einen sehr interessanten etwas "Lofi"mäßigen kaputten aber sehr spannenden Sound wie zB bei OMDs Maid of Orleans (Anfang), bei den Beatles oder bei Kraftwerks frühen Werken.
SOUND
VERSION several versions of the Mellotron under multiple names for copyright reasons.
VERSION verschiedene Versionen (55-160kg Gewicht) mit verschiedenen Tonumfängen wurden gebaut und mit verschiedenen Bandrahmen bestückbar.
VERSION