Dominion 1 Hybrid Synthesizer + step sequencer
SPECS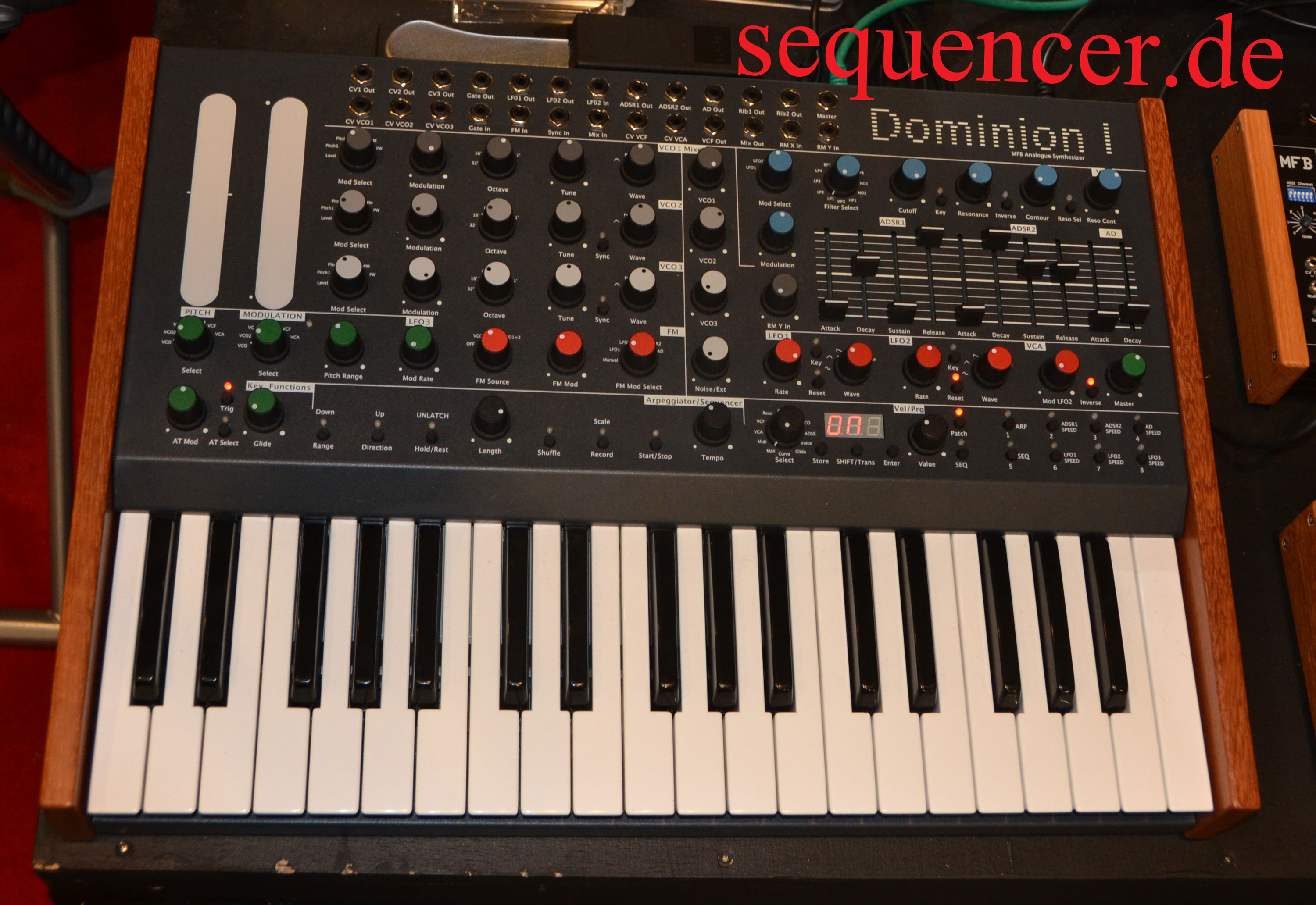 Dominion 1 - Prototype 2014
click image to enlarge - Bild klicken zum vergroessern
other MFB gear..


ABOUT the keyboard version of the Dominion X but appears to look better and higher "quality".

it has the newer SED filters inside. they sound a bit Roland'ish.
ABOUT Die Tastaturversion des Dominion X, nur deutlich edler. Mit den sgnt. SED Filtern, die im Forum als "Roland-artig" beschrieben werden. Und die Tendenz ist auch tatsächlich vorhanden.
ABOUT
DETAILS lfos can work as short envelope, they are fast, btw app 50Hz, Ringmodulation can be assigned from all 3 VCOs (square only) and FM is not bad for a synth of that size! ext. in and filter feedback (minimoog style trick) to fatten up the sound

2x ribbon that work as wheels

CV access to most of the components
DETAILS LFOs können als Minihüllkurve genutzt werden, dazu sind die LFOs schnell (50Hz etwa),Ringmodulation lässt sich frei schalten (nur Rechteck) und FM für einen synthesizer dieser größe ist bemerkenswert, feedback regler "minimoog trick" zum andicken. ext. eingang.

2x Ribbons als Pitch/Modwheel
Zugang zu den meisten Baugruppen in analoger Form (CV)
DETAILS
SOUND basses and cool FX, vintage analog sounds, high quality sweep pad sounds
SOUND bässe und effekte, vintage Analogsounds, fette teure sweeps
SOUND
VERSION Dominion X - desktop version
VERSION Dominion X - Desktopversion
VERSION