Tanzbaer Drummachine/Module + TR sequencer
SPECS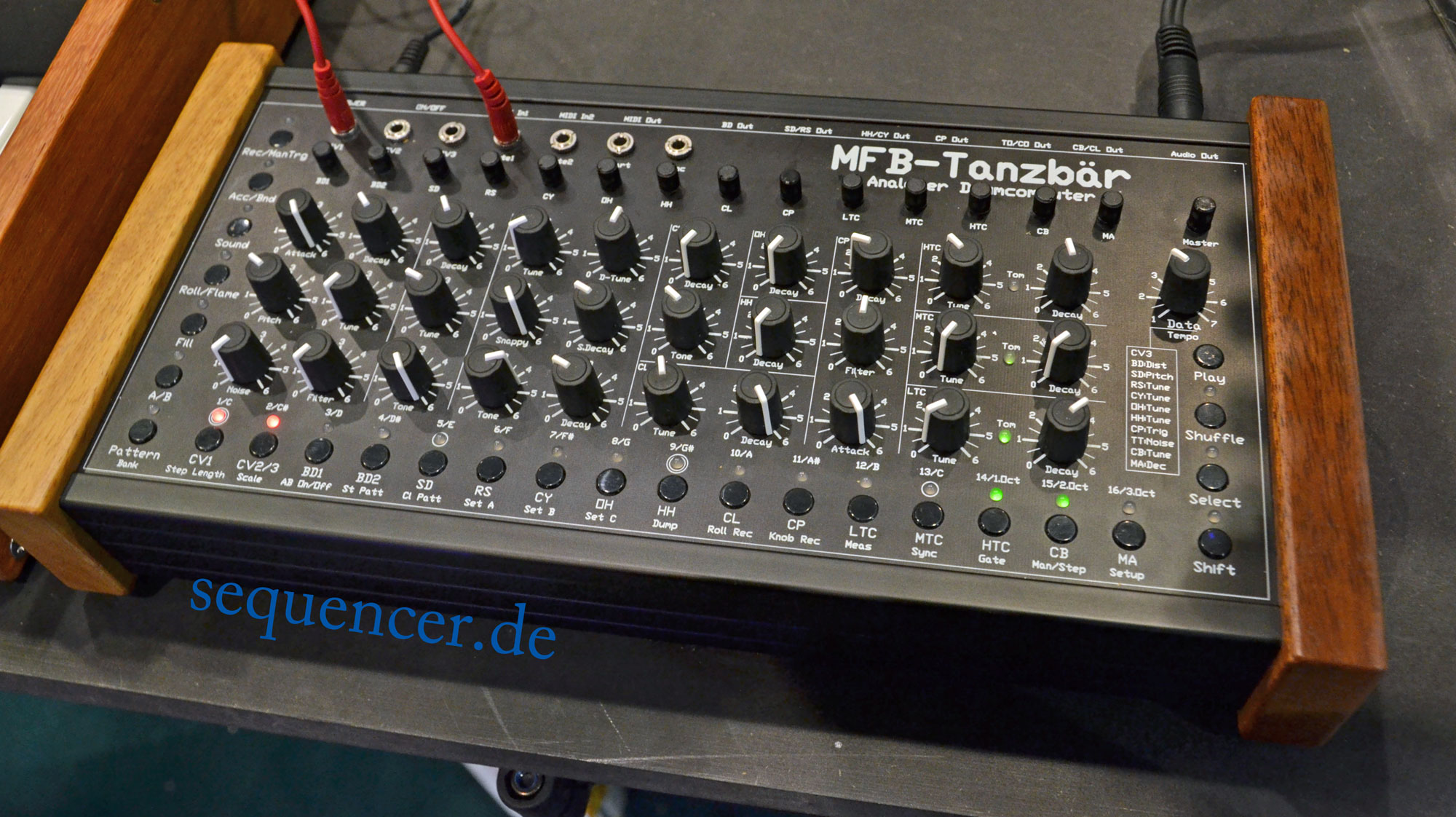 MFB Tanzbär Drum Machine
click image to enlarge - Bild klicken zum vergroessern
other MFB gear..


ABOUT quite TR-style full analog drum machine with 16 sounds that are not modelled after some TR/CR drum machines but still analog and electronic in the spirit of those.

MFB-Tanzbär is german (dancing bear).
ABOUT Die Struktur des MFB-Tanzbär(en) ähnelt der TR808, es gibt ein A/B Pattern-System (32 Steps insgesamt) und die Möglichkeit mehrere Patterns zu verketten.

Alle Sounds sind analog, irgendwo zwischen TR und KPR und ein wenig CR, sprich - ein eigener Sound und analog.

Roll/Flam ermöglicht sehr schnelle Wirbel.

Der Bär steht für Berlin und Tanzbär steht für.. ehm, Tanzbär halt.
ABOUT
DETAILS Roll/Flam allows fast double to quadruple trigger.

2 CV/Gate outputs with test oscillator - makes it easy to just check the melodies without having the synth connected.

it's 40 parameters that can be controlled/set
DETAILS Rollfunktion mit 2-4facher Triggerung pro Step

und 2 CV/Gate Ausgänge mit eingebautem Testgenerator um testzuhören.

40 Parameter können eingestellt werden
DETAILS
SOUND classic analog style electronic drums and 2 sequencer lines
SOUND classic analog style beats und dazu Steuerung zweier Melodielinien (analog)!
SOUND