Realistic Analog Synthesizer
SPECS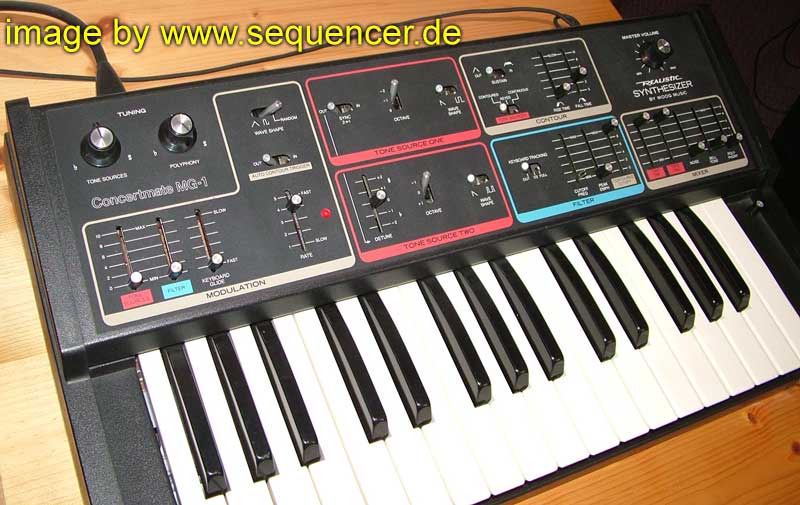 click image to enlarge - Bild klicken zum vergroessern
other MOOG gear..


ABOUT made by Realistic but still a Moog.

the MG1 Concertmate is a nice cheap moog. quite simliar to the Rogue but with Poly Section of the Liberation and Ringmod. Made by Realistic. For the mass market, therefor a bit different "wording" like contour for envelope generator etc. but not completely new for moogs.the poly section is really full polyphonic but not very much more than "organs" do.

there are modification possible!
ABOUT Realistic ist der Hersteller, aber mit Moog Technik. -> MG1!

Der MG1 Concertmate sollte eine preiswerte Alternative sein, wirklich günstig. Ähnlich wie Rogue und den Ringmodulator (Bell) und die Polysektion vom Liberation. Gebaut von Realistic. Er ist mit dem Liberation der einzige "Moog", der einen Ringmodulator hat, natürlich gabs Ringmod für die Modularsysteme. Die Polysektion ist "vollpolyphon", kann aber nicht sehr viel.

er kann gut modifiziert werden.
ABOUT
DETAILS one env with switchable AD or AR characteristic. "Bell" is the inclusion of a ring modulator which uses XOR between Square Waves only.
DETAILS eine Hüllkurve mit AD oder umschaltbar AR charakter. Ringmodulation aber nur Rechtecke (mit Bell bezeichnet), Einfache Polysektion, die fest auf 8" klingt, eher sowas wie eine Zugabe aus dem Moog Liberation.
DETAILS
SOUND basses
SOUND bässe
SOUND
VERSION Rogue quite similar exept the waveforms can not be set on each VCO.
VERSION Rogue ziemlich ähnlich, hat aber VCOs haben nur einen wellenform-schalter
VERSION