Taurus Analog Synthesizer
SPECS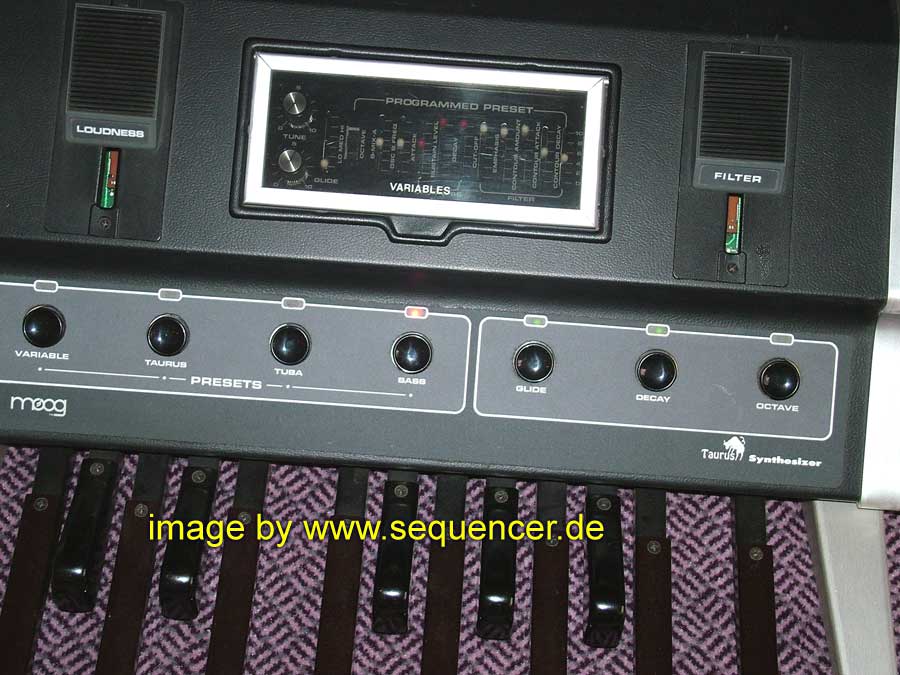 click image to enlarge - Bild klicken zum vergroessern
other MOOG gear..


ABOUT Taurus 2 is a pedal keyboard (like for organs) instead of finger keyboard. it'S a real bass synth, no toy. it's successor Taurus 2 is the same as the Rogue.
ABOUT Taurus ist ein Fußpedal im Orgel-Stil, ist aber ein richtige Bass Synth! Der Nachfolger Taurus 2 ist identisch mit dem Rogue
ABOUT
DETAILS simple synth with same waveform for each VCO. one env with switchable AD or AS characteristic.
DETAILS waves können nicht ausgewählt werden, es gibt aber presets über die man sie umschalten kann und dann über die regler editieren kann.
DETAILS
SOUND basses
SOUND bässe
SOUND
VERSION Moog taurus 2 like Rogue but with foot keyboard instead for bass players.
VERSION moog taurus 2: wie rogue aber mit fusspedalen für bass.
VERSION