Multivox SQ01, Firstman SQ01 Analog Synthesizer + step sequencer
Multivox
MultivoxSQ01/FirstmanSQ01
SPECS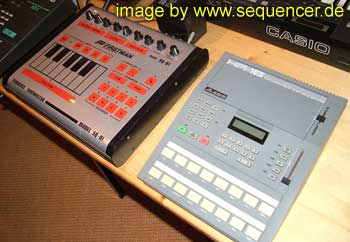 Firstman SQ10 .. (left!! / links!)
click image to enlarge - Bild klicken zum vergroessern
other MULTIVOX gear..


ABOUT The Multivox / Firstman SQ-01 was kind of a TB303 with an analog Bass Synth (not much more than this, but fat sounding..) and a simple sequencer (a bit "§§% to program..)
ABOUT TB303? tja, der Multivox / Firstman SQ10 erinnert sehr an die 303, klingt aber wirklich anders, breiter und "keller-mäßiger", hab letztens sogar mal so ein Teil bei 2raumwohnung gesehen, etwa 10-15 Jahre nachdem ich ihn mal verwendete.. man vergisst sowas komisches ja nicht *G*
ABOUT
DETAILS well, a strange step sequencer and a little bass synth, that is about the "complexity" of a 303.. basses.. and basses or basses?
DETAILS ein sequencer, der etwas seltsam zu bedienen ist, der synth ist wirklich seehr simpel und kann kaum mehr als eine 303..
DETAILS
SOUND bass and sequencer-lines
SOUND bass und sequencer-lines
SOUND