Reaktor Modular Software Synthesizer + modulation step sequencer
Native Instruments
Reaktor
SPECS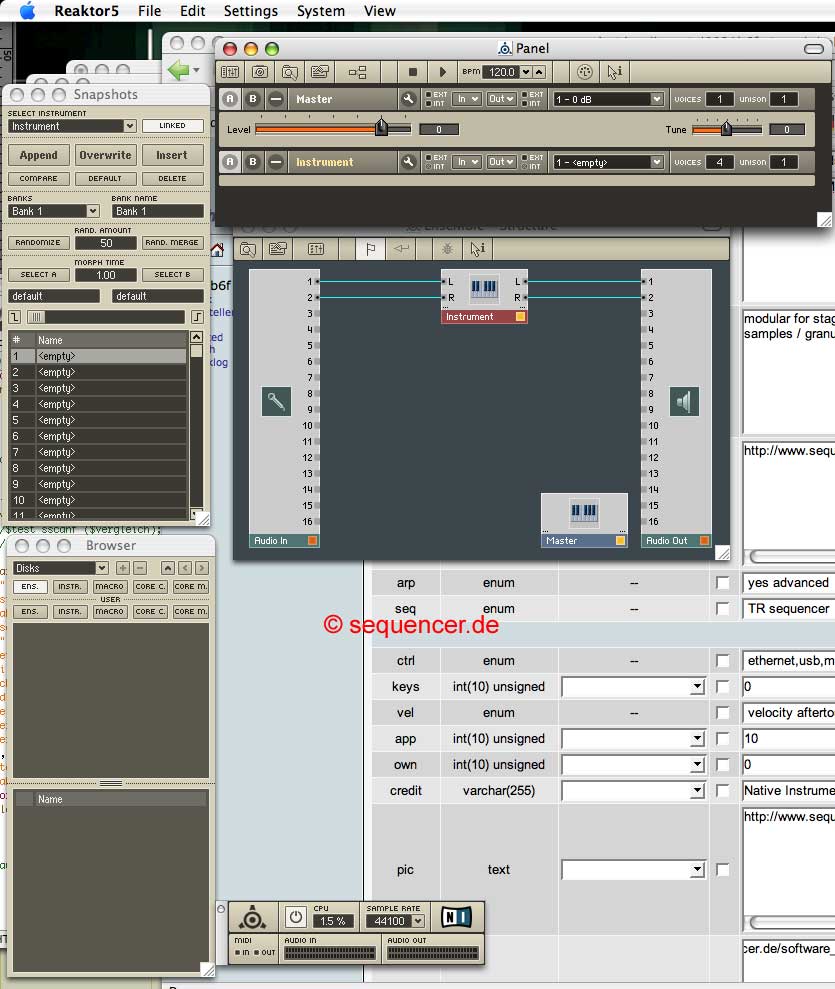 Native Instruments Reaktor 5
click image to enlarge - Bild klicken zum vergroessern
other NATIVEINSTRUMENTS gear..


ABOUT First real native commercial modular Synth which has changed to Reaktor after introducing Transformator (the granular sample module) and generator was first..

strict 2 sided basic structure:
1) patches (structures)
2) panels and knobs (panel)
3) all together (ensembles)

uses also OSC to communitate with other computers / controllers (like lemur) via ethernet..

more than midi resolution possible.
ABOUT Komplett modular, Struktur ist die Aufteilung zwischen den Patches/Routing (Structures) und dem Steuerfeld (Panels) zu einer Sammlung dieser (Ensembles) mit OSC-Fähigkeit (Ethernet Netzwerk mehrerer Rechner / Lemur etc.) Erster kommerzieller Modularsynth (zuerst als Generator, dann als Reaktor mit Transformator - dem Granularsamplemodul)

panels erlauben höhere Auflösungen als die 7bit von Midi Controllern.

Reaktor 5 die core technik ist faktisch eine modulare sprache für low level programmierung von allem,was man braucht von einfachen umrechnungen über wirklich selbstgebaute delays mit operationen die jedes plus und minus im rechenprozess programmieren lässt, dazu gibt es die macros, die eine in/output schnittstelle bekommen und vom bisherigen kern getrennt sind, sie sind faktisch objekt-mässig und können auch aus schon vorhandenen oder selbst programmierten abschnitten bestehen. wer formelfest ist , kann faktisch jeden synthesizer oder sequencer oder ähnliches (ja, so mein ich das!) erstellen.
benutzt wird das ganze fast so wie bisher, nur einfach noch tiefer, man muss nicht "programmieren" können, aber denken ;)

neu ist auch das programmieren von optischen sachen wie knöpfen oder led anzeigen oder was-auch-immer, so kann jedem wert ein bild zugewiesen werden oder mittels einer umschaltung ein ganzer bereich in einem synthesizer umgeschaltet werden. klassische anwendung ist sicher hall oder delay.. und man sieht nur die parameter, die das aktive teil auch hat..

es gibt multisegmenthüllkurven, die sehr an die des fm7/fm8 erinnern. sehr gut!theoretisch könnte mittels listen auch wavetables importiert werden, da listen von zahlen reingeholt werden können.
ABOUT
DETAILS different types of OSCs, LFOs and ENVs from simple AD to multi stage, any VCO can mod another. freely patchable like on a traditional modular (same look and feel).

Software: Win XP and OS X.
DETAILS hat verschiedenste OSC, ENV und LFO-Typen, daher offen. Patches sind so einfach zu erstellen wie auf einem klassischen Modular, auch das "look and feel" ist gleich. Alle Parameter können dann von aussen gesteuert und verändert werden

Soft: OS X und Win (XP).
DETAILS
SOUND modular for stage, can do everything incl. playing samples / granular.
SOUND livetauglicher Modularsynthesizer, kann ansich ALLES..
SOUND
VERSION Pc + Mac
VERSION Pc + Mac
VERSION