Bass Station 2 Analog Synthesizer + step sequencer
SPECS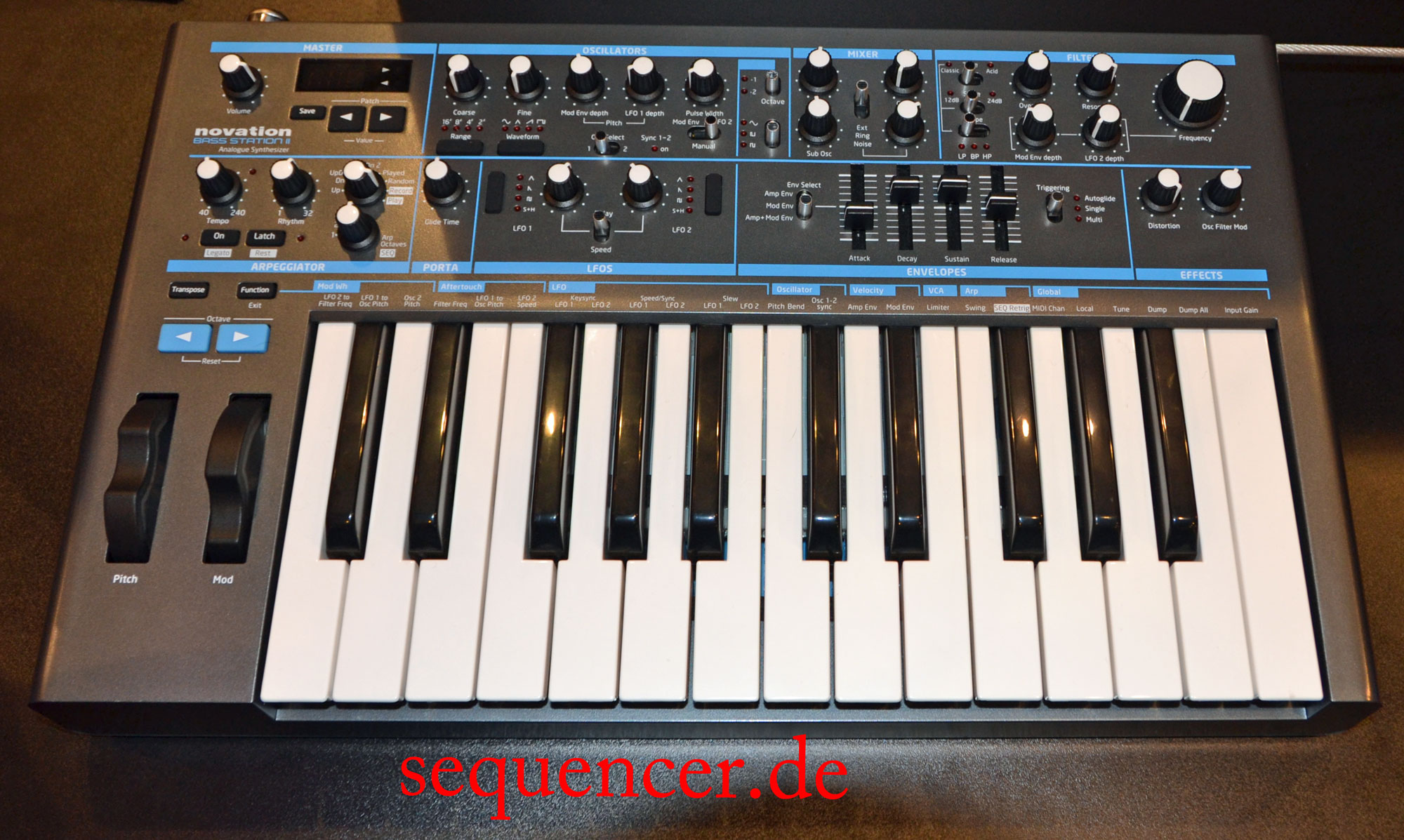 click image to enlarge - Bild klicken zum vergroessern
other NOVATION gear..


ABOUT the next generation bass station has more in synthesis and features. there is Filter FM, a Ringmodulator and even a little Sequencer. Also Multimode Filters with more options..

looks a lot like they liked the Roland SH series in sound and feel - especially the nice small ones (SH1,2, 101)..

even sonically it reminds a bit of roland'ish behaviour
ABOUT Nachfolger des Analogsynths mit kleinen Maßen. Dieses Mal kann sie mehr in allen Punkten, denn es gibt sogar Filter FM und einen Sequencer.

Mehr Synthese und schräge Sounds sind damit möglich. Generell ist der Grundklang an Rolands SH Serie orientiert.
ABOUT
DETAILS 2 filter types, both Roland'ish, one called Acid seems to be a bit like.. you know, don't you? the other one is classic in the sense of Bass Station 1

Lots of things for the buck and a little Sequencer is in there as well.

Filter FM and distortion as well.

DETAILS 2 Filtertypen: Acid und Classic - rolandisch.

Eine Menge für den Preis. Auch ein Step-Sequencer ist drin.

Modulationsquellen werden teilweise über die Tastatur gelegt (ohne einen Ton auszulösen).
Filter FM ist auch an Bord und auch Verzerrung.

DETAILS
SOUND everything analog, cool for stage performance all knobbed and there's enough aboard to get some dirt in there as well. perfect mono synth.
SOUND Ein Bühnensynthesizer, denn er hat alles als Knopf ausgelegt und auch anspruchsvollere Sachen wie Ringmodulation wurde eingebaut. Außerdem ein Step Sequencer. Alle typischen Monosounds.
SOUND
VERSION the old Bass Stations are nice, but only if you do not need ringmodulators and FM, it's basically made for innocent analog stuff while the BS2 can do a lot more.
VERSION alte Bass Station als Rack und Key kann deutlich weniger, besonders bei spezielleren Synthesefunktionen wie Ringmod und FM, das gibt es nur in der BS2
VERSION