Bass Station , Bass Station Rack Analog Synthesizer
Novation
BassStation/BassStationRack
SPECS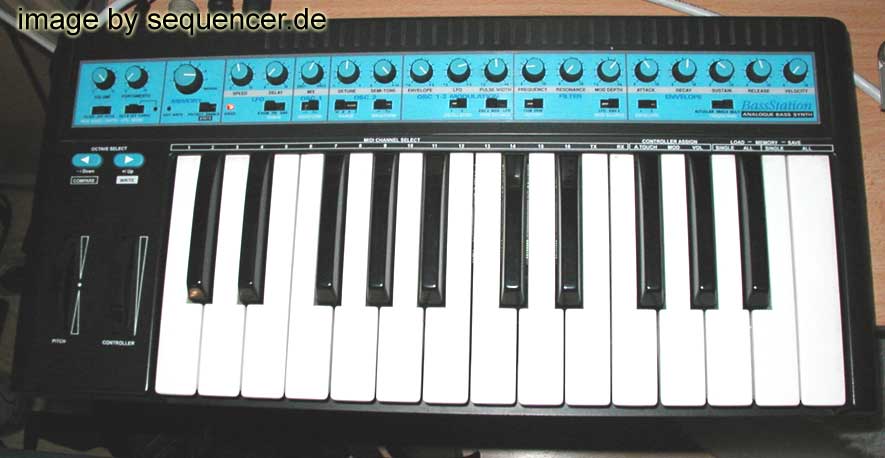 thx for pic novation: plasmatron
click image to enlarge - Bild klicken zum vergroessern
other NOVATION gear..


ABOUT Little analog synth from the UK.. (it was the time of analog synths revival), rack was 2 years later.
ABOUT Kleiner englischer Synthesizer aus der Zeit des neuen Analoghypes.. Rack: 2 Jahre später.
ABOUT
DETAILS Novation did exactly 2 analogue small liveable synthesizers. the bass station and the super bass station. the bass station was a nice sounding small synth with a nice little 2oct. keyboard. 2 OSCs 1 LFO and a 12/24dB/oct LPF filter and 2 ADSRs for modulation (VCA,VCF) both modes: single and multiple trigger. also as 1unit rack incl. knobs and CC controllable. it HAS memory, but it's 7 , no more.. the super bassstation adds another LFO and effects and more memory. it has PWM and a nice subOSC and as said 2 LFOs. with it's 150 ram sounds it has a lot more features to "superize" the bass station concept.. both monophonic of course.. you can mod pwm by envelope. the same case was used for the VA drumstation (808 and 909 simulated digtally) and the a station and successors.. both are sort of "mini junos"
DETAILS es gibt 2 analoge Novation Synthesizer, der andere ist die SuperBassStation, 2 Hüllkurven und LFO auf diesem Raum ist schon sehr klein, besonders für 93.
DETAILS
SOUND bass, it's name is bassstation!
SOUND bass
SOUND
VERSION rack + keyboard version
VERSION rack + keyboard version
VERSION