Drumstation Drummachine/Module
SPECS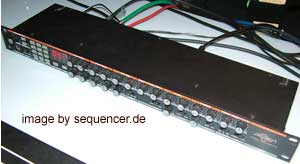 novation drumstation
click image to enlarge - Bild klicken zum vergroessern
other NOVATION gear..


ABOUT a TR808 and TR909 clone incl all parameters (controllable via midi) but no sequencer. maybe it's just samples?
ABOUT Eine Emulation der Roland Drummachines TR808 und TR909 mit allen entsprechende Parameterns und Midi-Controller Steurerung , jedoch ohne Sequencer. Vielleicht sind es einfach Samples..?
ABOUT
DETAILS can be controlled via midi controllers, ,slim. , 8 ind. outs
DETAILS midi steuerbar, 1 HE rack. 8 einzelausgänge
DETAILS
SOUND TR drums - electro
SOUND TR drums - electro
SOUND