Supernova Digital Synthesizer
SPECS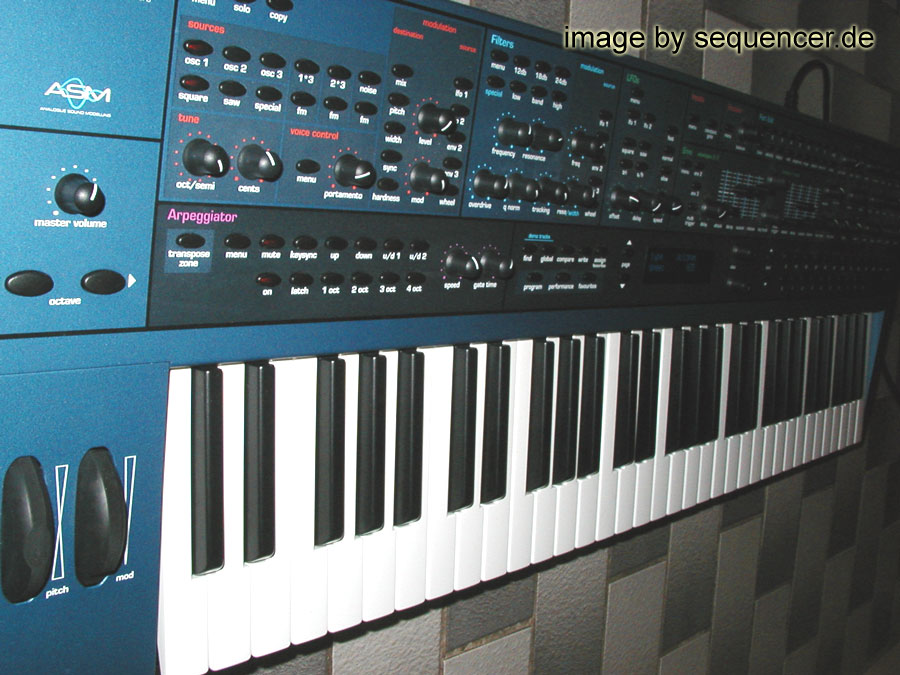 thx for pic novation: plasmatron (keyboard)
click image to enlarge - Bild klicken zum vergroessern
other NOVATION gear..


ABOUT first VA by Novation, finally updated to 20 voices (32 voices with expansion), you always got all FX per "Voice" or better per Multi (!) - dual ring mod (1-2, 2-3)..
ABOUT Der erste VA von Novation, er hatte als erster Effekte für JEDEN Sound, so konnte man die Effekte generell im Patch so basteln, das man sicher war: So kann ich das auch im Multimode einsetzen. per Software gab es 20 Stimmen, durch Update sogar 32. doppel ringmod (1-2,2-3)
ABOUT
DETAILS cool and easy to use routing system, nice FM features of 3 OSCs (OSC 1-2,2-3), also some shaping stuff in OSC section (hardness), it'S been said it uses sampled waves instead of generating it algorithmically.. is this true? not found out officially. anyway, it sound ok.. not too many hi harmonics, but ok.. fx: reverb, delay and lots more per sound! - Novation Supernova 1 & 2 , and the little nova (same features but less voices and a little slimmed down FM features) - Motorola 56303 (8 of) more to come here soon.. the specialty on the the supernovas were 3 speed LFOs (very nice!), a complete FX section PER VOICE or to be exact - per multi part.. it was the first one in this kind of feature, later versions added a vocoder. it is a quite large mod routing section, well.. the odd part is that it's oscs are no real "models" of analogue synths but samples.. to my ears it sounds not as rich as a comparable average analogue synth.. anyway it is lots of mod and dirt sources on board.. not bad! 8 DSP - quite a lot since other synths did not need such a large number on the other hand: others did not have sooo many FX!! later novation released an OS for much more voices.. the little nova had 12 voices and a bit reduced in modulation.. (FM algos) - 3 LFO ranges lo,mid hi, very good and fast!!
DETAILS gutes routing system (übersichtlich) mit FM (OSC 1-2,2-3), arbeitet angeblich nicht mit erzeugten waves, sondern mit samples (kann aber nicht geprüft werden), dennoch flexibel und angenehm in der bedienung. fx: reverb, delay and lots more pro sound! 3 LFOs-Bereiche (sehr schnell bis langsam, sehr gut!) - Motorola 56303 (8 of)
DETAILS
SOUND all bread + butter, ambient sounds
SOUND allrounder, speziell ambient sounds sind gut zu machen..
SOUND
VERSION rack + keyboard version
VERSION rack + keyboard version
VERSION