Ultra Nova Digital Synthesizer
SPECS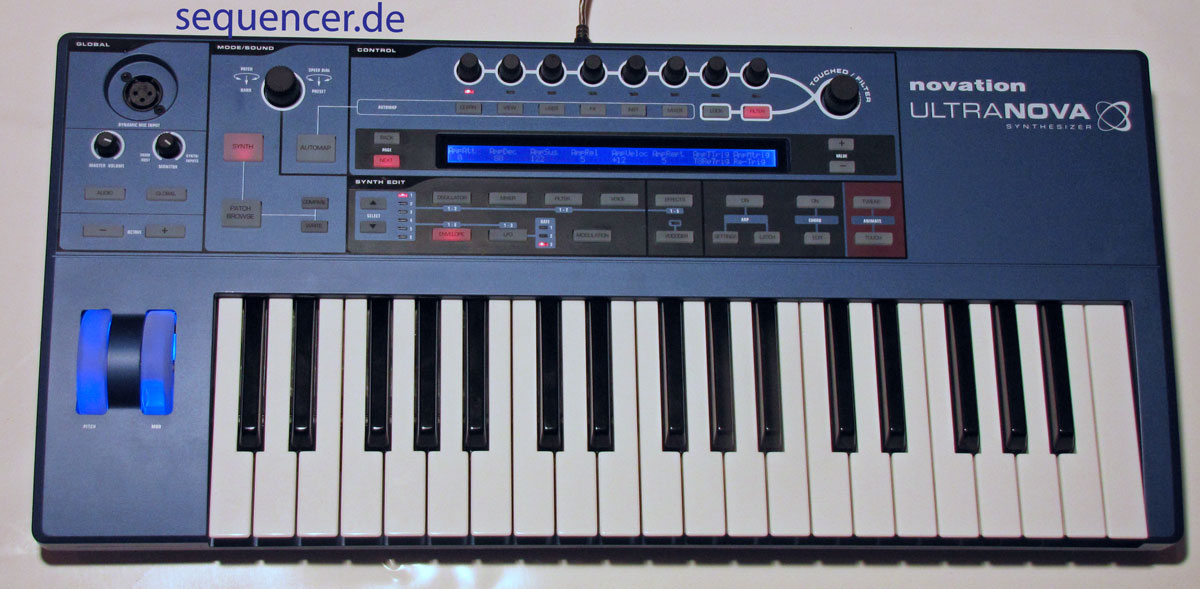 Novation
click image to enlarge - Bild klicken zum vergroessern
other NOVATION gear..


ABOUT 1 Part Version of the new Nova Series, Touch-Knobs allow triggering of ENVs and LFOs,

also well scaled LFO waveforms for tonal modulation and loopable envelopes which can be used as LFOs and you can even set how many repeats of the env-loop. so LFOs and ENVs help, the filter handling is very musical by the way.

there are 6 envelopes in there and 5 FX, but monotimbral, has vocoder, USB & audio features plus plug in integration (the TI way) and wavetables, it's the first model of coming new Supernova II sucessors)

btw. at least one of the designers names is Chris Huggett. Does that ring a bell? OSCar? No?
ABOUT Nachfolger der Nova Serie in neuem Gewand (a la Remote SL) und Effekten pro Multislot

Loopbare Hüllkurven (Anzahl der Loops einstellbar), daher auch als LFO zu missbrauchen, interessante LFO Muster und tonale Folgen. das handling der filter ist sehr musikalisch durch offset oder freie einstellbarkeit und einige algorithmen für das "verhalten".


UltraNova ist ein analog-Modelling-Synthesizer aus der 'Nova'-Serie und quasi ein monotimbraler Supernova II mit Erweiterungen mit einem 5 Effektprozessoren. Es gibt Wavetable-Synthese, dem Software-Editor, den berührungsempfindlichen Performance-Modus.

UltraNova scheint eine erste Version der kommenden neuen Generation der 'Nova'-Reihe zu sein. Es gibt einen Vocoder in 3 Oktaven Gehäuse.

Software-Plug-in-Editor direkt in der DAW im TI Stil ist mit dabei.

Unter den Entwicklern ist auch Chris Huggett. Klingelt da was? Genau! u.a. der OSCar stammt auch von ihm.

Es gibt Wavetable-Synthese, hat insgesamt 14 verschiedene Filter-Typen, 6 Hüllkurven, 3 LFOs, 5 Effekt-Slots, Density/Detune

Internes 2 In / 4 Out USB-Audio-Interface, S/P-DIF-Ausgang und MIDI In/Out/Thru plus USB gibt es als Anschluss Wenn UltraNova im 'Automap-Modus' arbeitet, können die acht Regler zur einfachen Steuerung von Plug-ins und DAWs genutzt werden.



Nova-Serie-Synth-Engine, basierend auf Supernova II:
1 Part mit bis zu 18 Stimmen, 14 Filter-Arten, 36 Wavetables, 5 Effekt-Slots
Berührungsempfindliche Controller triggert Hüllkurven/LFOs/Filter/FX

37 Tasten in voller Größe, 12 Band Vocoder

optionaler Betrieb via Bus-Power:

Zusätzliche Features:
· Arpeggiator
· Chord-Funktion
· Filter-Distortion
· Density- & Detune-Funktionen
· Automap-Controller
· USB-Bus-Power oder Betrieb mit mitgeliefertem Netzteil möglich

Release Nov.2010
ABOUT
DETAILS touch sensitive faders allow triggering of LFOs etc.
the BPFs can be set to 6-18dB for the LPF and HPF "side" to build the band pass! the 6dB-types are without resonance.

Envolopes got slope variable from linear to more percussive chracteristics for attack and decay.there are 2 more parameters to get a post-sustain level and rate!

Also a controller via Automap like the Remotes.

TI like Plugin Integration
5 FX but it's not multitimbral.
DETAILS Touch-Sensitiv zum triggern von LFOs etc. Es gibt 6-18dB/Okt für die Bandpässe für die Tief- und Hochpassseite. Die 6dB-Versionen sind ohne Resonanz.

Hüllkurven mit Charakteristikjustage für A und D Phase. Es gibt dazu eine weitere Sustainzeit und Pegel.

Gleichzeittg als Plugin / Automap Steuerung verwendbar.

TI artige PLugin Integration
5 FX aber nicht multitimbral, 6 Hüllkurven und Arper/Vocoder
DETAILS
SOUND all bread + butter, ambient sounds - and a lot of very musical parameter additions and a lot of addition LFO waveforms and envelope loops (makes a nice LFO also) and there are 6!
SOUND allrounder, speziell ambient sounds sind gut zu machen. aber auch sehr bewegte sounds durch loopbare Hüllkurven und generell sehr musikalisch-praktische Parameter
SOUND