OBX Analog Synthesizer
SPECS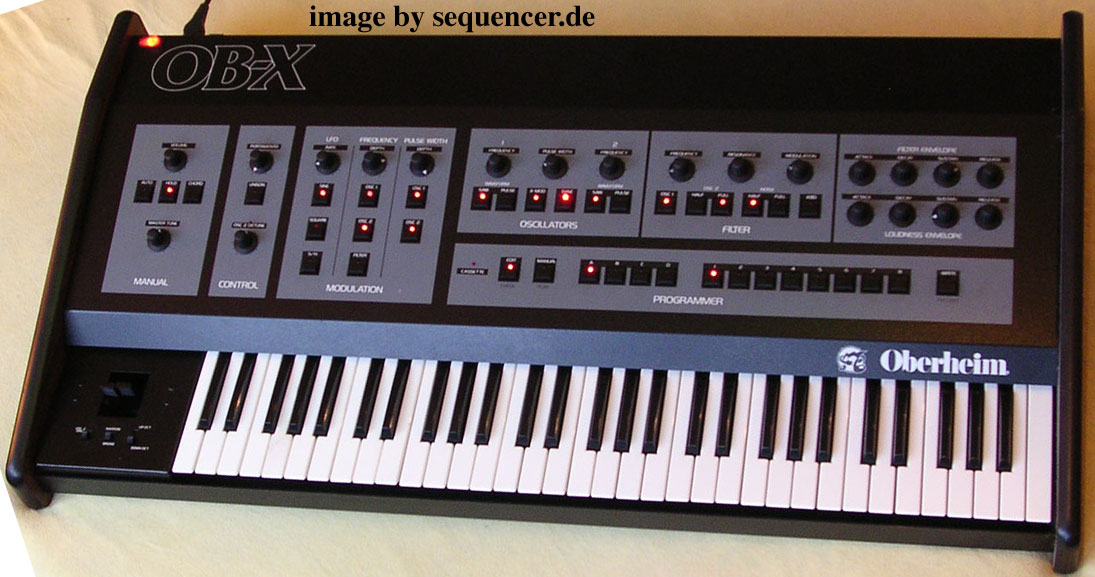 OBX
click image to enlarge - Bild klicken zum vergroessern
other OBERHEIM gear..


ABOUT Kind of a polyphonic OB1? quite like this. 4, 6 and 8 voices available. but the subs are gone..
ABOUT Ein OB1 in polyphon? Fast! Es gab Versionen mit 4, 6 und 8 Stimmen, aufrüstbar. dafür gibts die SubOSCs aus dem Obi nicht mehr..
ABOUT
DETAILS allows V/Oct control. Xmod but 12dB mode only, still very good sounding, still. unison mode! difference Oberheim OB-X vs. OB-Xa OB-X = discrete analogue circuitry, possibly SSM? OB-Xa = Curtis Chips the OB X wasn't part of the x-system all x-synthesizers are compatible optically and dimensions the ob-x has Crossmod which never came back on the later machines ob-x and ob-8 the Xa added a split/double mode and was expandable from 4 to 8 voices with 2-voice cards.. and it also had 2 and 4pole filters, the obx had no 4pole mode.. the OBX has Crossmod. the OBXa hasn't, but the OBx has no self oscillating filters (12dB/oct is often limited to non max reso/self oscillating) OBSX: a preset version of the OBX
DETAILS V/Oct steuerung. Xmod, keinen 4pol mode, aber dennoch unglaublich gut im sound. unisono mode !!
DETAILS
SOUND wide and big pads and sweeps with soft character, one of the best you can get. leads and basses also very fat. watch the internal trimmers, they may need some special watching..
SOUND flächiges und tolle sweeps, fette Leads und Bässe.. Tolle Maschine, etwas anfällige interne Trimmer.
SOUND
VERSION versions 4, 6 or 8 voices.
VERSION Versionen mit 4, 6 oder 8 Stimmen.
VERSION