1020, 1002 Analog Synthesizer
SPECS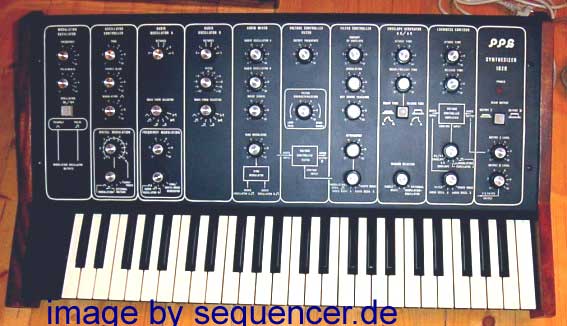 the PPG 1020
click image to enlarge - Bild klicken zum vergroessern
other PPG gear..


ABOUT PPGs first Minimoog competitor. btw. quite "german".. the 1020 had digital OSCs in 1976 (!) and: it does not sound thin!!
ABOUT PPGs erster Minimoog-Konkurrent, recht "deutsch". durchaus interessant und der erste mit digitalen OSCs im 1020er Modell, was keineswegs dünn klingen muss.
ABOUT
DETAILS VCOs got 3 fixed pulsewidth settings, special strange feature: you can quantise the digital OSCs by external CV or square / triangle in the 1020. 2 VCAs for stereo outs. Resonance is called "charakterization" here.
DETAILS VCOs haben 3 Pulsweiten (aber fest), im 1020: digitale OSCs lassen sich per Dreieck oder Rechteck modulieren (auch extern) und quantisieren. 2 VCAs für stereosounds. resonanz wird "charakterization" genannt.
DETAILS
SOUND basses leads and FX, big and a bit evil sounding (thats how we are in germany), FM-like sounds and sick FX.
SOUND bässe, leads und FX, sehr fett und auch etwas böse/brachial, FM-artige Klänge und krankes Zeug.
SOUND
VERSION 1002 / 1020 digital OSCs in the 1020.
VERSION 1002 / 1020: digitale Oszillatoren mit dem 1020er Modell
VERSION