Super Raven , Raven Max , Cyber 6 Digital Synthesizer + TR sequencer
Quasimidi
SuperRaven/RavenMax/Cyber6
SPECS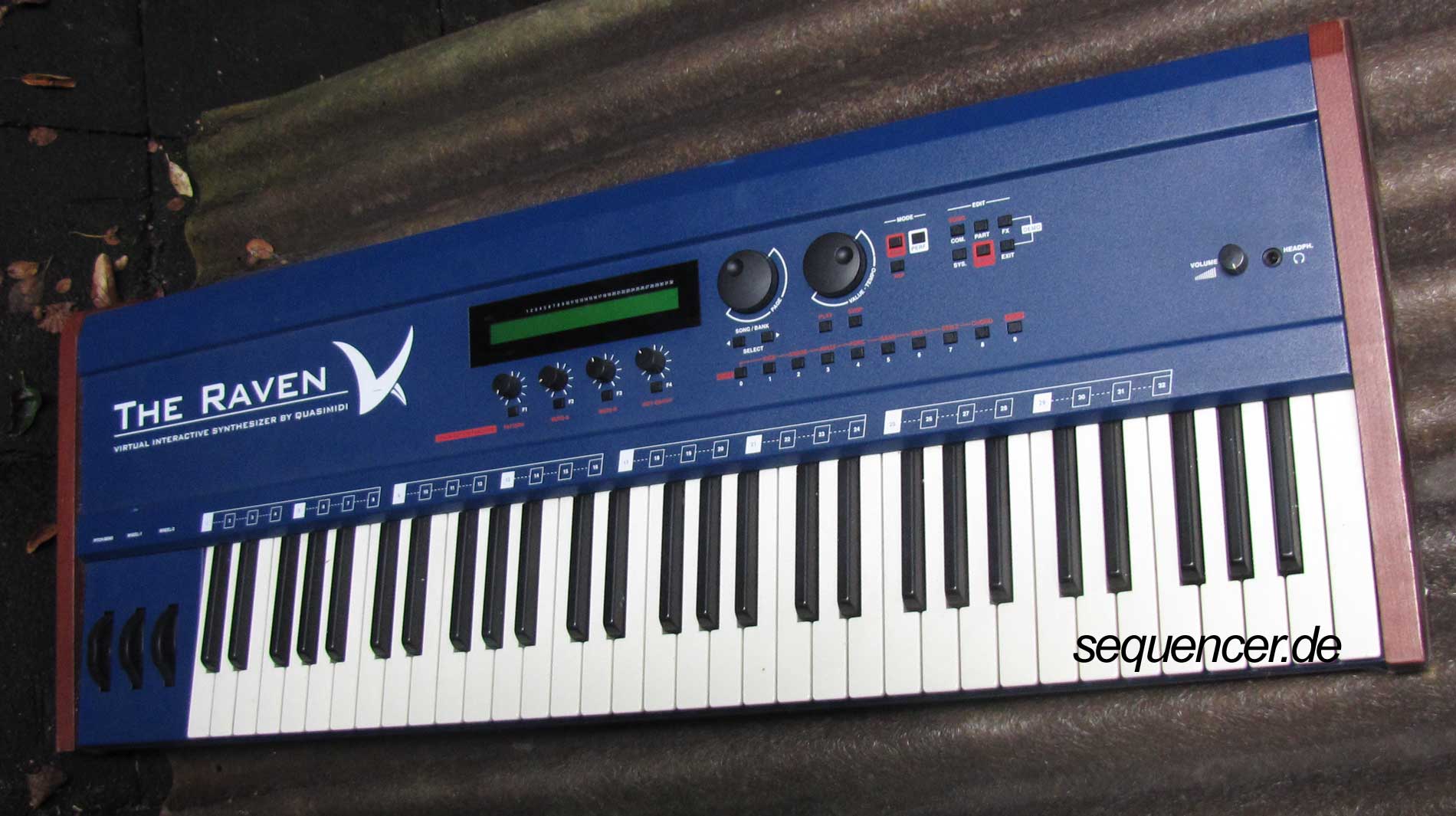 Quasimidi Raven - like Cyber 6 with Sound
click image to enlarge - Bild klicken zum vergroessern
other QUASIMIDI gear..


ABOUT The Quasimidi Cyber 6 but with Sequencer.
The sound engine is very much like the quasar. it's based on ROM samples filled with "techno" samples. The Word of the year was Techno and DJ, so no other Company did so many techno-dedicated stuff & "easy to use" - entry level gear.

the Raven Max and Super-Raven are expanded rom content ones, they are technically the same as the Raven but with more Samples on board.
ABOUT Ein mit TR-Sequencer ausgestattete Version, so wie der Cyber 6, jedoch mit Klangerzeugung. Die erinnert an die des Quasar. Dh: Nicht sehr viele Editiermöglichkeiten, aber ein sehr interessanter Sequencer und Keyboard mit 3 Rädern.

Max bzw Super-Raven sind erweitert - sie haben mehr Wellenformen an Bord. Sie kam 1996 raus. Grade Quasimidi war die Firma, die mit dem Begriff Techno arbeiteten. Die BEgriffe DJ und Techno zogen viele Einteiger an.
ABOUT
DETAILS presets with offset-kind of "programming" sound with 50 user programs.
DETAILS Standards, basiert auf Werksklänge, 50 freie Speicher.
DETAILS
SOUND cool TR-type sequencer with rather not so remarkable sound.
SOUND Sequencing mit TR-arigem Sequencerkonzept, auch extern. Klangerzeugung eher - durchschnittlich.
SOUND
VERSION Cyber 6 : No sound engine
Raven : with simple sound
VERSION Cyber 6 : Ohne Klangerzeuung
Raven : Mit einfacher Klangerzeugung
VERSION