Dark Star , XP2 Digital Synthesizer
SPECS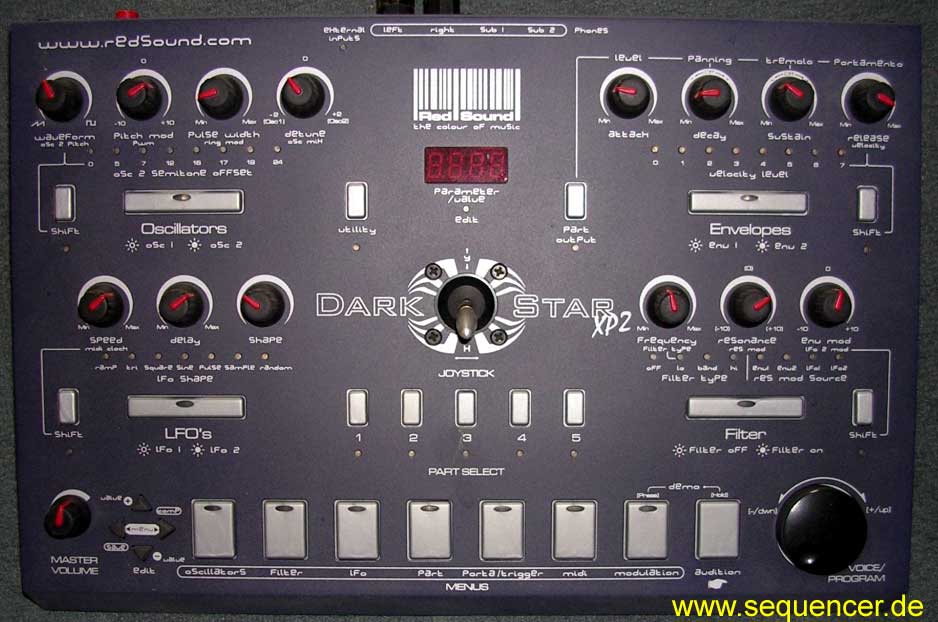 Dark Star XP2 pic thx rsmus7
click image to enlarge - Bild klicken zum vergroessern
other RED SOUND gear..


ABOUT A digital british Synth in a Desktop Case which is based on an earlier FX Box with Sequencer called Federation.
ABOUT Ein dem Effektgerät aus gleichem britischem Hause ähnelnder Desktop-Synthesizer mit digitaler Technik, es gab 3 Versionen (s.u.)
ABOUT
DETAILS coloured noise (pink,white,blue), vco1 morphs from saw to pulse
DETAILS farbiges Rauschen (pink,white,blue), osc1 erlaubt stufenlosen morph der wellenformen von pulse nach säge.
DETAILS
SOUND the usual, and live
SOUND das übliche und live, weil kompakt und beknopft
SOUND
VERSION Standard, XP2 (expanded) and with Vocoder (Vocoda Software optional)
VERSION Standard, XP2 (erweitert) und mit Vocoder (Vocoda Software optional)
VERSION