AXSynth Digital Synthesizer + real time sequencer
SPECS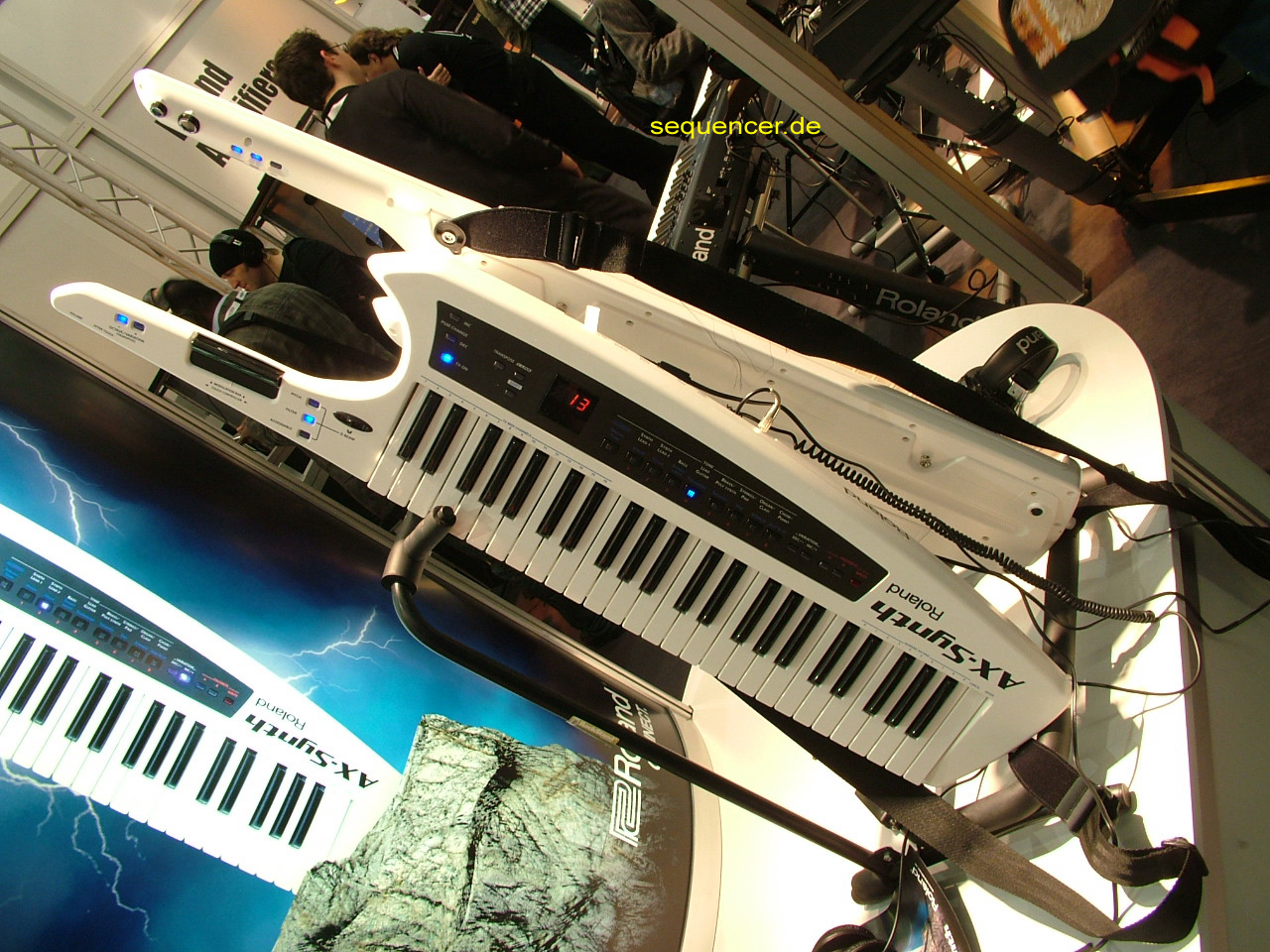 AX-Synth at Musikmesse 2009
click image to enlarge - Bild klicken zum vergroessern
other ROLAND gear..


ABOUT remote synth to be used as a "keytar" with dBeam, ribbon and other controllers and Juno G like Sound Engine.

Battery compartment, USB, edit via software.
ABOUT Umhängesynthesizer mit speziellen Controllern für das Livespiel, zB DBeam und Ribbon und ROMpler Klangerzeugung ähnlich Juno G.

Bateriebetrieb möglich, USB und Editor via USB gibt es dazu.
ABOUT
DETAILS The Envelopes are all 7 or 8 parameter-multisegment ones! The filters are all ok exept the strange clipping at a certain level of resonance with some waveforms. full control via Midi SysEx. ringmod can be placed between the 4 layers: this is the prototype of Rolands following JV series and lots more.64MB ROM waves. FXM = sort of FM with square wave (depth and colour) 10 structures. modulation matrix. the first Fantom is just the Keyboard Version of the XV5080, X/S added USB for communication (much cooler to have) and pads, also mod sequencer like the Vsynth has on X models. it's not clear if it is also included in the juno G.. but usb can be used for midi and data transfer for sure..
DETAILS Die Hüllkurven (12 Stück also) sind alles Multisegment-Hüllkurven mit Time-Level Struktur (7, bzw 8 Parameter), Die Filter sind gewohnt gut, nur gibt es bei bestimmten Wellenformen eine Art Clipping bei höheren Resonanzwerten. war komplett SysEx-Echtzeit steuerbar per Midi. die ringmod kann zwischen den 4 Layern platziert werden. diese Struktur wurde lange beibehalten zB JV Serie. 64MB ROM waves. FXM= eine Art FM mit rechteck (parameter: colour + depth) pro OSC nutzbar. 10 Verschaltungen (structures). modulationsmatrix. Fantom: die erste Fantom Version ist identisch mit dem XV5080. X/S: haben USB für Datentausch und als MIDI ersatz.

leider nicht bekannt: ob der multi sequencer auch hier enthalten ist..
DETAILS
SOUND flexible bread and butter module and Samples
SOUND sehr flexibles "brot und butter" soundmodul. Samples!
SOUND
VERSION Fantom Serie, JV5080, Juno G, etc.
VERSION Fantom Serie, JV5080, Juno G, etc.
VERSION