D70 Digital Synthesizer
SPECS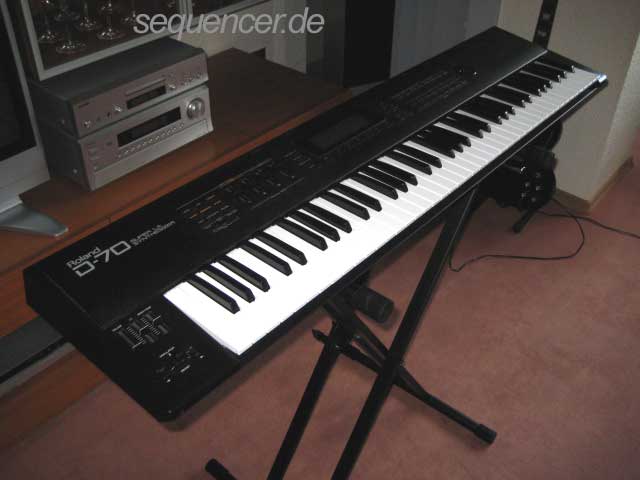 Roland D-70 pic thx Stefan Zensen / streife1000 ÄT yahoo.de
click image to enlarge - Bild klicken zum vergroessern
other ROLAND gear..


ABOUT Roland tried to make the D-70 a D-50 successor, but it had some sort of "latency" with some voices played so it did not sell that well. the first Synth without Programmer option like the PG1000 for the D50.
ABOUT ein rel erfolgloser Versuch, dem D50 einen Nachfolger zu spendieren mit "schneller höher weiter" - Features. Leider auch mit zu viel "Latenz" der Stimmen. Der D50 Programmer PG1000 kann hier nicht eingesetzt werden.
ABOUT
DETAILS one structure has 2 OSCs, so combining them it is 4 OSCs and 3x2 = 6 LFOs. per structure it had a pitch env and one per filter and one for amp. Dynamic Loop-Modulation aboard, sort of Waveshaping. new edit palette, like on JD800 for edit of multiple layer parameters, not bad.
DETAILS eine structure hat 2 OSCs, daher hat die zusammen 2x2 = 4 OSCs und 3x2 = 6 LFOs, dazu kommen je eine pitch ENV und pro Filter und Amp je eine Mehrsegment-ENV (wenn lower + upper genutzt). Programmer: PG1000 (teuer) für direktes Editing mit Knöpfen passt hier leider nicht mehr. Es kamen mehr Filtermodi dazu (HPF und BPF im D70). Dynamic Loop-Modulation an Bord, eine Art Waveshaping. neu war hier das palette edit, wie auch im JD800 um im Layer identische Parameter für jedes Layer leichter zu editieren, war nicht übel im Jd800 und hier auch nicht.
DETAILS
SOUND pads and basses
SOUND pads und bass
SOUND
VERSION software before V1.11 contains bugs (multimode)

Test Version: Hold Number 1 and switch it on.
VERSION es gab bugsvor V1.11, die den multiimode betreffen,

Version-Test: Number 1 halten und einschalten.
VERSION