MC307 groovebox + TR sequencer
SPECS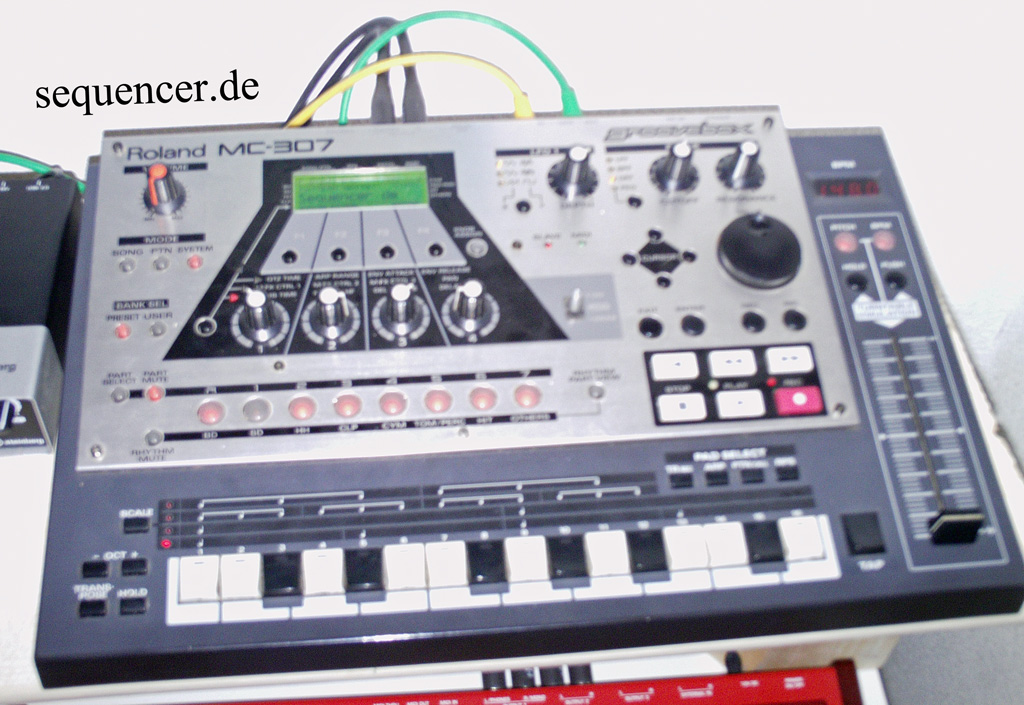 thx Matthias Wenzel for image
click image to enlarge - Bild klicken zum vergroessern
other ROLAND gear..


ABOUT this is the first full blown JV1080-kind of MC, not as big as the MC505 but more like it compared to the reduced concept of the MC303 with just some Rom-Samples.
ABOUT Nachfolger der MC303, hatte aber bereits die komplexere JV1080-ähnliche Klangerzeugung an Bord und kann daher klanglich weit mehr als der kleine Einsteiger MC.
ABOUT
DETAILS this machine is sort of a smaller MC505 with a real full multistage envelope synth engine compared to the MC303 it is a lot bigger and better and a nice studio tool as well, you can not edit your step sequencer programming without stopping it, so it is limited for live use, but intuitive enough and there is an editor available which is recommended to make some nice patches. almost underrated in a way.
DETAILS leider keine DBeams wie bei der MC505, aber Mehrstufenhüllkurven und Strukturen wie beim MC505/JV1080 und damit für eine Groovebox weit komplexere Klangengine als die meisten anderen, alle MCs dieser Zeit haben 31 Takte Länge und der Sequencer muss angehalten werden, um ein neues Pattern zu bauen, daher eher was fürs Studio als für die Bühne. Dennoch intuitiv zu benutzen.
DETAILS
SOUND clubgrooves..
SOUND clubgrooves..
SOUND