R70 Drummachine/Module + step sequencer
SPECS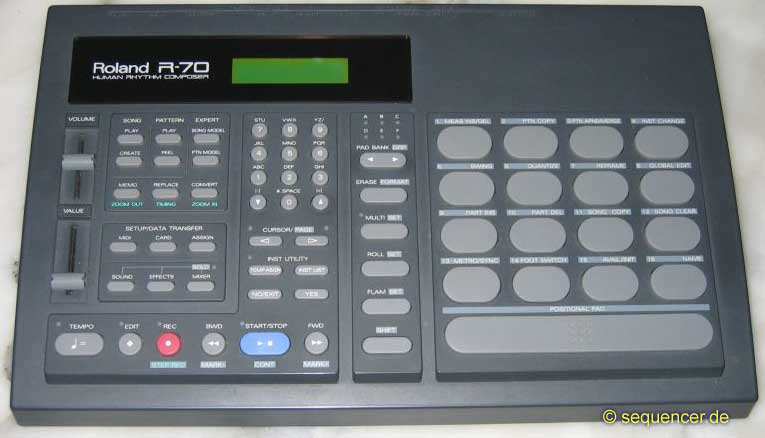 R70 pic thx Pascal Laurent
(
link
)
click image to enlarge - Bild klicken zum vergroessern
other ROLAND gear..


ABOUT big version of the R8 but with 210 sounds/samples the R8 a Hammer those times because it had human feel , something to play things more "human" (somewhat "wrong", the display is no so cool because it's not like the R8's (shows no dots in a row in 2 columns) later this machine was available as DR550 (48 sounds) and DR660 by boss .. later DR drummachines had more sounds and FX..
ABOUT Fette Version der R8, aber mit 210 Drumsounds (samples) - generell : R8 war damals ein echter Hammer, klanglich endlich 16bit und fett und die "Rhythmus Menschine" hatte Human Feel, eine "ich spiel ein bisschen daneben" Funktion.. schönes display wie TR505 fiel hier leider weg , gabs später in klein als DR550 (48 sounds), DR660.. Frontline Asssembly und andere haben sie viel genutzt in den 90ern.. spätere DR maschinen hatten dann FX und mehr sounds..
ABOUT
DETAILS 210 sounds, like the DR series (boss=roland!) it had a mini envelope, sound colour and tuning, human feel was THEEE word those days.. had not the cool display of the TR505/R8 ,so it lost the overview..
DETAILS 210 sounds, hatte wie die DR serie von boss minihüllkurve, kleine klangveränderung und tuning. human feel gabs auch, was zu der zeit DIE funktion war und die Werbung als Slogan "die Rhythmus Menschine" schrieb.. jede menge preset patterns hab es auch.. leider ohne das schöne display der TR505 oder R8..
DETAILS
SOUND 90ies power drums,..
SOUND 90er power drums mit druck
SOUND