SP404 Sampler + simple sequencer
SPECS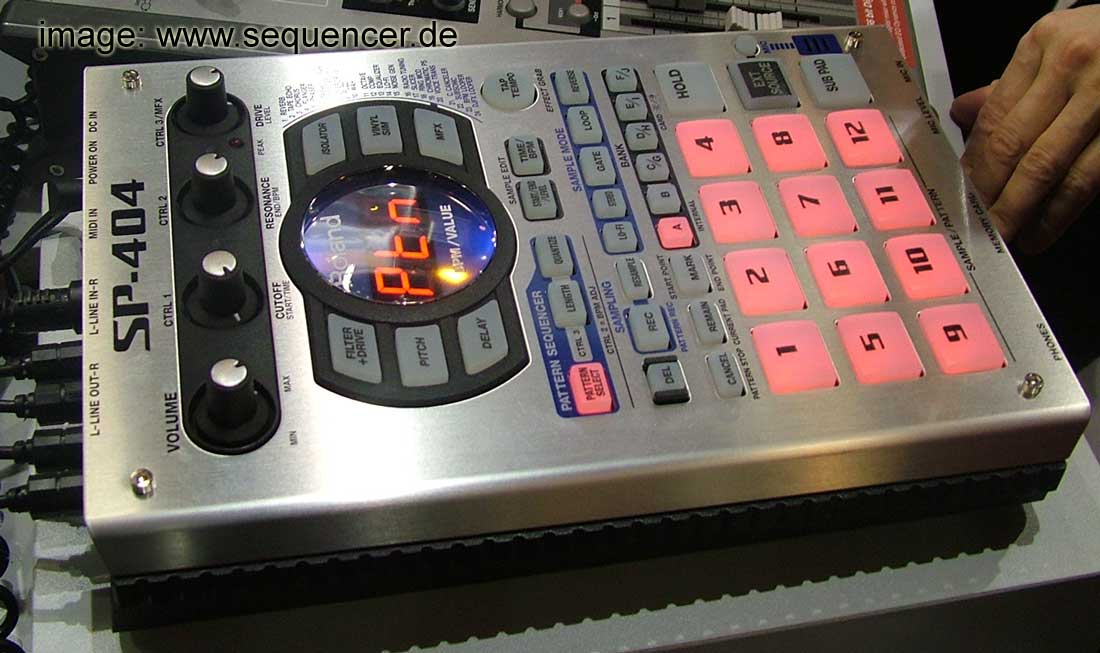 Roland sp404
click image to enlarge - Bild klicken zum vergroessern
other ROLAND gear..


ABOUT a loop tool with FX, the smaller machines (202+303) are more lofi, the newest (404) is more extended fo longer loops, SP606 is a real loop specialist.. the real weak point is the sequencer which is really simple real time one that allows 4 tracks and is no way something like the TR stuff..so the stage performer will play the loops by hand.. no more, no less.. btw: Boss is "equal" to Roland.. the smaller SPs are Boss Products..
ABOUT Teilweise sind die SPs BOSS Produkte (Ist "dasselbe" wie Roland).. Loop Sampler Serie mit Notitz-Sequencer. Der SP202 und 303 sind mehr oder wenige reine Loop-Abspieler mit ein paar guten Effekten, der neuere (2005) SP404, der SP606 bringt seid 2004 eine automatische midi sample funktion für midi loops.. sehr schwach ist allerdings der sequencer, mehr als als notitzbuch kann man das teil leider nicht nutzen (4 tracks)..
ABOUT
DETAILS loop tool for manual playing and "flying in" samples.. can also play every single sounds of a loop and can split/assigned onto the pads.. 24 samples / pattern, works (also) with batteries!
DETAILS loop maschinen für handbetrieb zum abfahren und einfliegen.. kann natürlich auch einzelsounds spielen oder einzelsounds aufteilen auf die pads.. batteriebetrieb möglich! compact flash karten zum speichern. 24 samples / pattern
DETAILS
SOUND clubgrooves..loops! not really melodies, but possible..
SOUND clubgrooves, aber nur loops, eher nicht melodien und co (in erster linie, es geht schon!)
SOUND
VERSION SP404SX has more memory and up to 120 samples instead of just 24 in the sp404, also the Sx has can access 32GB of RAM.
VERSION SP404SX: 120 statt nur 24 Samples möglich, bzw 32GB auf Card statt 2GB im SP-404
VERSION