System 700 Modular Synthesizer + analog step sequencer
SPECS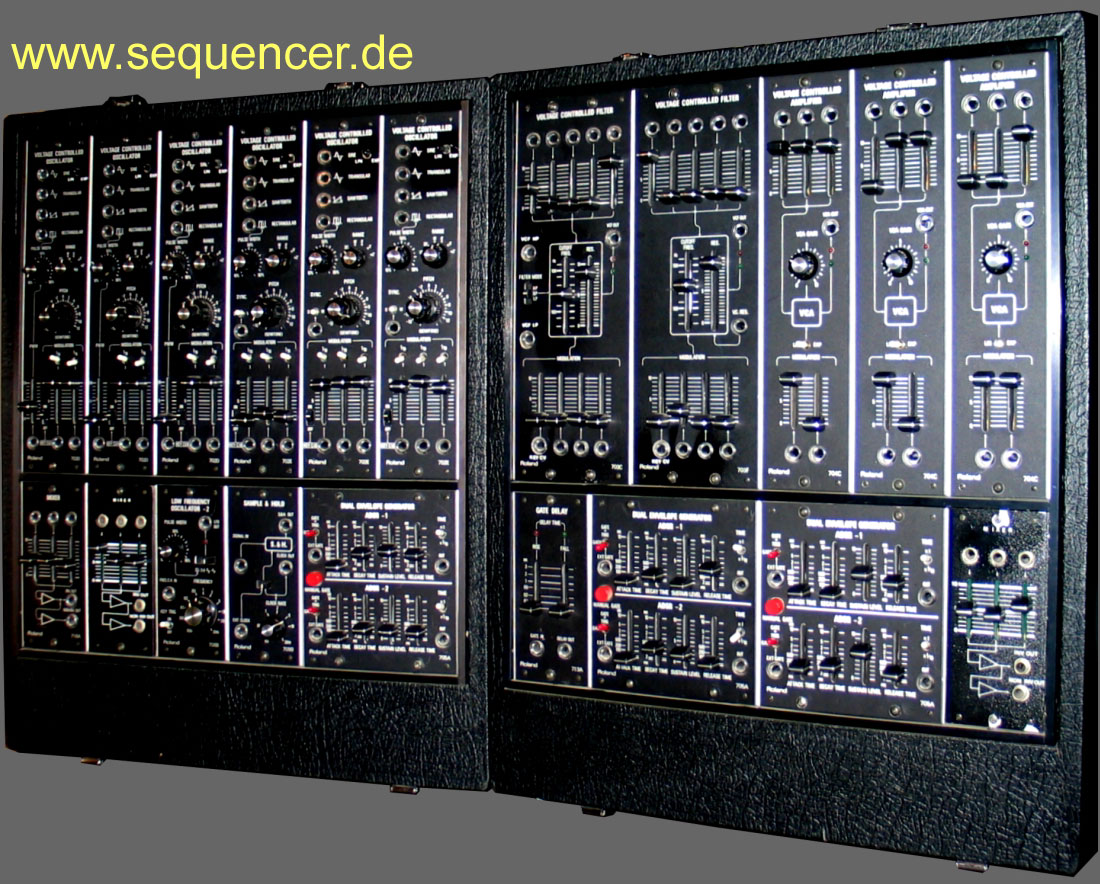 the wing cabinet System 700 pic thx bernie
(
link
)
click image to enlarge - Bild klicken zum vergroessern
other ROLAND gear..


ABOUT the Roland 700 is a very nice modular which has prepatched jacks that can be changed by just pluggin in a patchcord. so it's much more to get out of the module. it is not as compact as the smaller 100m, so one module is one funcitonality on this system - ah, btw: of course the modules could be chosen by the user.
ABOUT Das 700er System ist modular, jedoch gab es generell meist nicht frei zu konfigurierendes System, es ist jedoch möglich. Auch im 700er gibt es Vorverkablung, die durch Patchkabel unterbrochen werden können, sehr praktisch und schneller als reine Modularsysteme. Bands wie Depeche Mode und Human Leage haben den Klang sicher allgemein bekannt gemacht. natürlich konnte man die Module frei konfigurieren!
ABOUT
DETAILS the filters are multimode one with 3 filter types. there are several VCOs and VCF versions, they differ like some have PWM others have 3 input for pitch, the filtersare quite similar exept the routing in the basic cabinet. some VCOs provide soft and hard sync.
DETAILS die filter sind multimode-filter mit 3 filtertypen. einige module haben unterschiedliche konfigurationen wie VCOs und VCF, manche haben daher keine PWM, um einen eingang mehr anzubieten, andere haben soft und hard sync. einige module haben ein routing (zB LFO etc.) mit anderen modulen im system.

DETAILS
SOUND nice FM vocal sounds, fast percussive sounds and interesting FM reso filter sounds. lots of sounds because its modular. this is a studio instrument. open to everything.
SOUND breite palette durch modularen aufbau. perkussive und ausgefallene fm klänge, vocal-ähnliche durch filter FM. studio, denn es ist groß! open to everything.
SOUND
VERSION the system consists of these "modules" different VCO and VCF versions.. lab unit: 3 VCOs,1 VCF, VCA, 2x ENV, RING, LFO, S+H
basic lab unit: 3 VCOs (3 types), 2 VCFs, 2 VCAs, mixer, 2 LFOs, 2 ENVs, Voltage Processor, Reverb, Ringmod, Noise, S+H, Env.Follower, Integrater, Multiple, Amp
Wing 1: 6x VCO (div Types), 2x ENV, multiple, LFO, mixer, S+H
Wing 2: 3 VCAs, 2 VCFs, 4x ENV, multiple, gate delay
VERSION bestandteile des Systems (komplett) es gab diese generellen versionen mit unterschiedlichen VCOs und VCFs..:
lab unit: 3 VCOs,1 VCF, VCA, 2x ENV, RING, LFO, S+H

die basis einheit: 3 VCOs (3 typen), 2 VCFs, 2 VCAs, mixer, 2 LFOs, 2 ENVs, Voltage Processor, Reverb, Ringmod, Noise, S+H, Env.Follower, Integrater, Multiple, Amp

Wing 1: 6x VCO (unterschiedliche Typen), 2x ENV, multiple, LFO, mixer, S+H

Wing 2: 3 VCAs, 2 VCFs, 4x ENV, multiple, gate delay
VERSION