TB303 Analog Synthesizer + TR sequencer
SPECS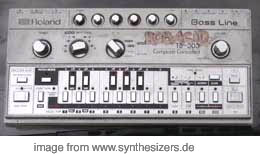 tb303..
click image to enlarge - Bild klicken zum vergroessern
other ROLAND gear..


ABOUT TB303? no need to say something, right? nobody wnated it when it was new, it is a simple bass synth with only 6 parameters and 18dB/oct filter which is in fact a not-so-good moog filter cascade .. real value: uuhm, 50€? but street.. more than 10x..
ABOUT TB303? was muss ich HIER erklären? ein kleiner bass-synthesizer mit sehr wenigen möglichkeiten und 18dB/oct filter, der eigentlich ein verunglückter moogfilter ist.. Realwert: 53€, aktuell: mehr *harhar*
ABOUT
DETAILS well, a 303, even the waveform switch is on the back (whyy??) - has DIN sync.
DETAILS nunja, eine 303, sogar der waveform schalter ist hinten angebracht (nicht so optimial), d hat DIN sync.
DETAILS
SOUND bass and sequencer-lines
SOUND bass und sequencer-lines
SOUND
VERSION lots of mods.. THE tb303 CLONEs first I'd think about the Future Retro Revolution, it sounds good and is strange to look at.. second the acidcode stuff and mods and names: acidlab, acidcode, devilfish, future retro SOME LINKS see site.. clones: lots like ml303, acidcode, xox etc..
VERSION <-- jede menge modifikationen etc, siehe english..
VERSION