TR909 Drummachine/Module + TR sequencer
SPECS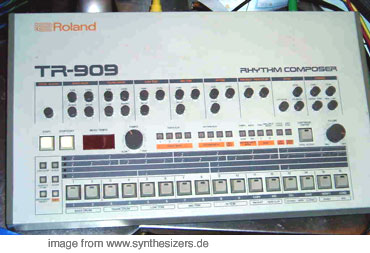 TR909
click image to enlarge - Bild klicken zum vergroessern
other ROLAND gear..


ABOUT after the TR808 the 909 had not that much success, its sound was to hard for the 80ies, but the techno revolution made it very famous. I do not need to tell you about this? right? THE techno machine. it wasn't the big success in 1983,when it was released - the people wanted "real sounding" drum machines (yes!).. the quite "hard" and "bassy" sound did not really find too many friends those times, but more than 10 years later THE machine with the techno revolution.
ABOUT Nachfolger der TR808, deutlich härter und mit digitalen Hihat-Samples, bekannt geworden durch Techno, damals eher nicht so erfolgreich.
ABOUT
DETAILS 10 instruments, all analogue exept hihats, trigger outs, ind. outs,chase light principle, the DIN SYNC plug: pin 3 is the syncing "hot wire"! this is important to users of: TR606, TR909, TR707, TR808, TB303
DETAILS 10 Instrumente, fast alle analog, Hihats digital - trigger outs, einzelausgänge, lauflichtprinzip. Roland DIN sync
DETAILS
SOUND Techno
SOUND Techno
SOUND