VSynth GT Digital Synthesizer + modulation step sequencer
SPECS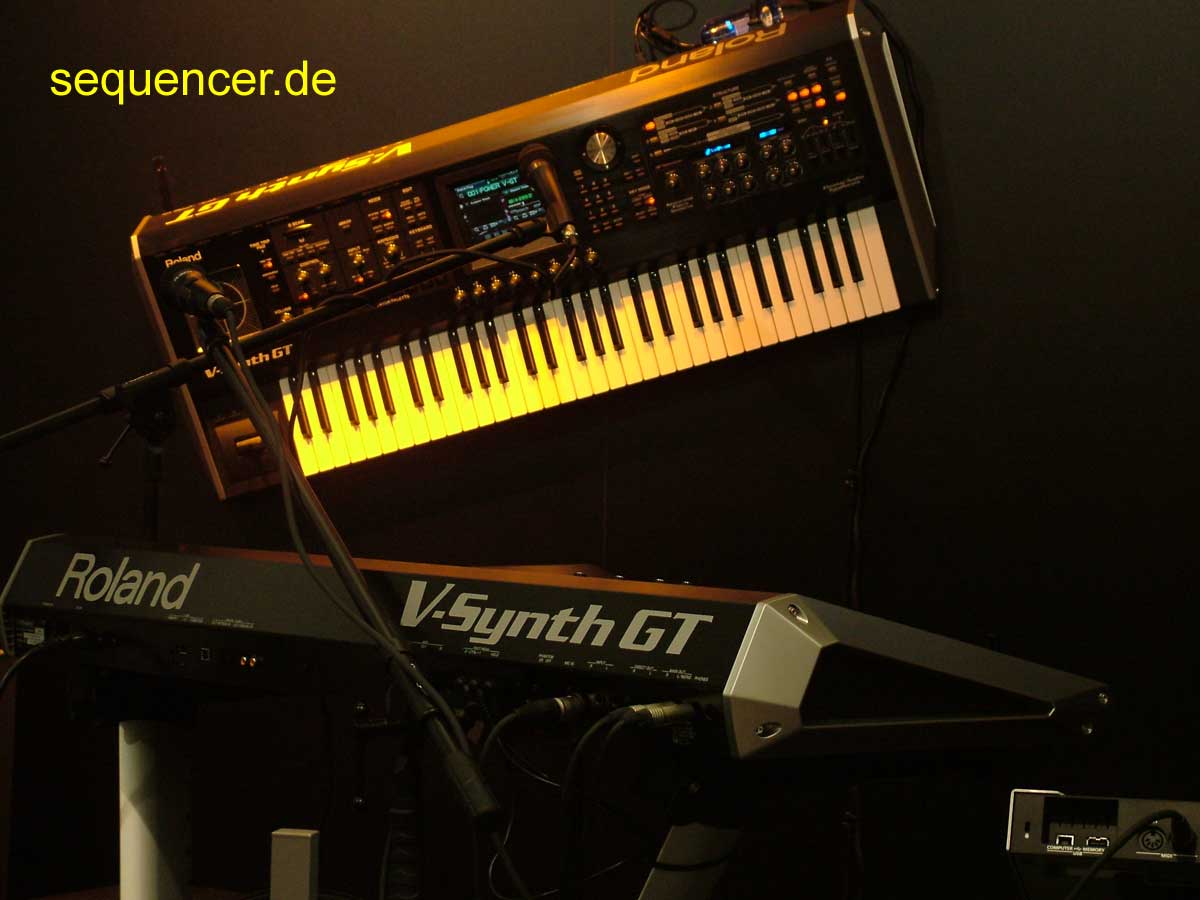 The V-Synth GT
click image to enlarge - Bild klicken zum vergroessern
other ROLAND gear..


ABOUT the successor of the V-Synth adds AP Synthesis (physical modeling) and makes voice modeller available at the same time (with AP).

new is the upper/lower structure (doubles), voice modeller usable with AP, AP structure with OSC1 of the standard synth + stnadard structures of the first vsynth plus AP. new colour display
ABOUT Nachfolger des V-Synth, bekommt AP Synthesis (physical modeling) dazu und kann voice modeller gleichzeitig nutzen..

neu hinzu kommt die layerstruktur upper/lower, etwas andere knopfanordnung, AP synthese, weitere struktur mit AP anstatt OSC2 und eine, die AP und Voice Modeller nutzt und AP zusammen mit bisherigen Strukturen, Farbdisplay
ABOUT
DETAILS 2 layers of 2 OSCs plus AP synth

UNTERSCHIED zum "alten" V-Synth:
er hat 2 Layer, also ist 2 VSynth, hat den APSynth und ist damit komplexer, kann auch den VC2 gleichzeitig benutzen mit dem AP..

the number of ENVs and LFOs varies depending on the filter type / osc is chosen. there are 3 structures allowing 2 OSCs and 2 COSM "filters" to be combined with FM/ringmod and VCA. any COSM can be a filter, a bit reducer, amp simulator or a combination of 2 filters or sideband filter / comb, resonator or waveshaper. eg the "TB" filter has a HPF also and any filter has a dedicated ENV and often an LFO per COSM. of course pitch and VCA have an own LFO, too. Since OS 2 there is a drum mode. 50MB on CF-Card 10MB on Flash.
DETAILS 2 Layer und AP Synthese.
2 OSCs und AP immer gleichzeitig möglich.

die Anzahl der LFOs und ENVs variiert etwas durch die Wahl der beiden COSM "filter" (filter, bit reducer, amp simulator, combination von 2 filtern oder auch sideband filter / comb, resonator oder waveshaper), jeder OSC und VCA und Filter hat mind einen LFO und je einen VCA, dazu haben die Filter meist noch einen weiteren Filter, der OSC meist noch einen weiteren Parameter mit eigener ENV. Die Strukturen ermöglichen die Kombination der COSMs und 2 OSCs mittels ringmod oder FM oder auch sync. dazu kommt natürlich der VCA. es gibt auch Effekte. Nett: seid OS 2 gibts einen Drum Mode. 50MB RAM (mit card), 10MB flash oder von CF-Card. V-Synth Kreator ist Masato Kamikoriyama plus 10-15 Leute (team).
DETAILS
SOUND outer space clicks and cuts, sample mangling and beat destruction of all kind, the vsynth is a very cool performance machine since it has d-beams (control by hand movement) and a 2D-pad to stop and show +"draw" the sample movements. nice performance step sequencer! interesting hi-end vocoder VC2 (optional). V-Synth creator Masato Kamikoriyama plus team (app.10-15 people)
SOUND abgefahrene clicks + cuts, "laptop sounds", sample und klangverwurstung und Performance mittels d-beams und 2d-pads "Hubschrauberlandeplatz" machen den vsynth perfekt für die Bühne. Damit kann man ein Sample festhalten, rückwärts schieben oder einfach steuern. d beams: handsteuerung durch entfernung. guter live-sequencer für parameter. interessante option: Vocoder VC2! (VC2)
SOUND
VERSION vsynth, vsynth XT (older versions)
VERSION vsynth, vsynth XT (ältere version)
VERSION