Drumtraks Drummachine/Module + real time sequencer
Sequential Circuits
Drumtraks
SPECS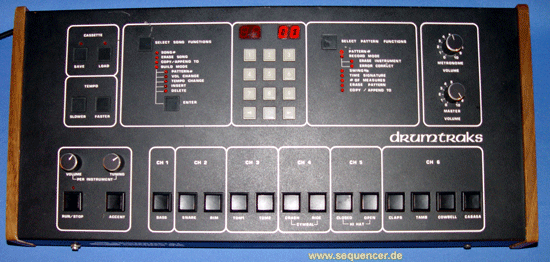 drumtraks (not drumtracks) thx to fairlight/viewermail
click image to enlarge - Bild klicken zum vergroessern
other SEQUENTIALCIRCUITS gear..


ABOUT rom based drum machine that was made to sound "real", it's samples can be made by the Oberheim prommer , very 80ies: the internal rom set.. sounds are changed by EPROM.
ABOUT eine 8bit Maschine, die mit dem Oberheim Prommer mit anderen Samples per EPROM-Wechsel gefüllt werden, klanglich "naturalistisch", wie man es in den 80ern gern hatte..
ABOUT
DETAILS up to 13 sound in EPROM.. click trigger in/out , midi
DETAILS bis zu 13 sounds im ROM, besser: Eprom.. , click trigger in/out, midi
DETAILS
SOUND beats. 80ies style
SOUND beats, 80er style..
SOUND