Multitrak Analog Synthesizer + simple sequencer
Sequential Circuits
Multitrak
SPECS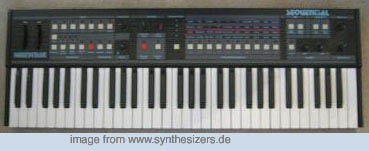 thx to fairlight for pic.
click image to enlarge - Bild klicken zum vergroessern
other SEQUENTIALCIRCUITS gear..


ABOUT little multitimbral Synth. quite like a PWM-able.
ABOUT In vielerlei Hinsicht ein großer Sixtrak, er hat PWM.
ABOUT
DETAILS one ENV for pitch,VCF,VCA. waves can sound simultaneously.
DETAILS je eine ENV für pitch,VCF,VCA. waves können getrennt aktiviert werden und gleichzeitig erklingen.
DETAILS
SOUND Fat basses and lead (in 4x layer mode)
SOUND fett, wenn er als Layer-Synth genutzt wird! Bässe und Leads!
SOUND