Prophet 5 Analog Synthesizer
Sequential Circuits
Prophet5
SPECS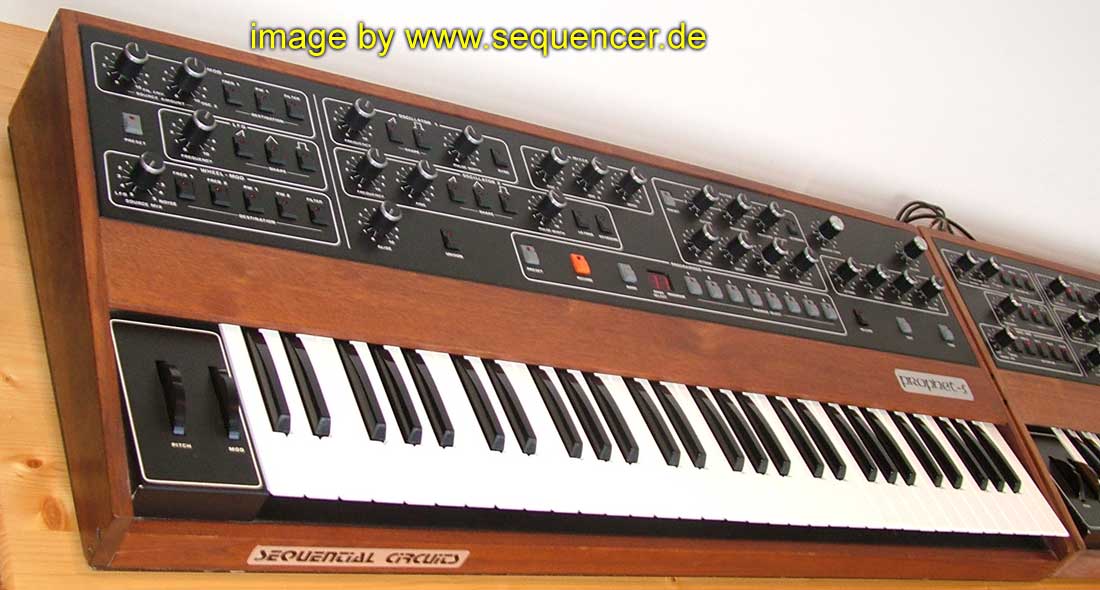 Prophet 5
click image to enlarge - Bild klicken zum vergroessern
other SEQUENTIAL CIRCUITS gear..


ABOUT very classic synth. Rev 1+2 used SSM Chips, Rev 3 - 3.3 used Curtis Rev 1/2 are rare and a bit "bigger".
ABOUT ein klassiker . Rev 1+2 hat SSM Chips, Rev 3-3.3 hat Curtis Chips. Rev 1+2 sind seltener und etwas breiter/fetter im Klang.
ABOUT
DETAILS has filterFM (polymod). HARDWARE: PROPHET 5 - the first Prophet 5 series used the SSM filter, later they were changed to CEM - Prophet 5 Rev 3: 11 CEM3340 VCO 10 CEM3310 EG 5 CEM3320 VCF Prophet 5 Rev 1 & 2: 11 SSM 2030 VCO 5 SSM 2040 VCF 10 SSM 2050 EG 21 SSM 2020 VCA
DETAILS hat filterFM (polymod), HARDWARE: PROPHET 5 -die erste P5 Serie war mit SSM filtern, später: CEM - Prophet 5 Rev 3: 11 CEM3340 VCO 10 CEM3310 EG 5 CEM3320 VCF Prophet 5 Rev 1 & 2: 11 SSM 2030 VCO 5 SSM 2040 VCF 10 SSM 2050 EG 21 SSM 2020 VCA
DETAILS
SOUND all perkussive , pads bass
SOUND alles perkussive pads bass
SOUND
VERSION latest rev 3.3 had midi. lots of versions eary ones used ssm , later versions used curtis chips
VERSION letzte Version 3.3 hatte midi. als prophet 10 in doppelter Ausführung zu haben , als T8 mit Anschlagdynamik
VERSION