Prophet 600 Analog Synthesizer + simple sequencer
Sequential Circuits
Prophet600
SPECS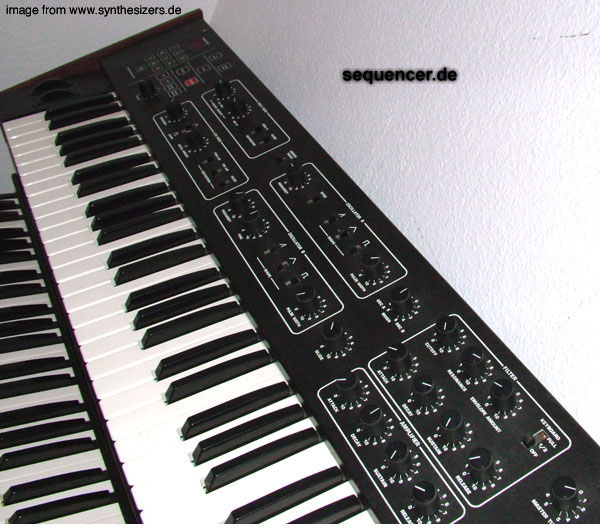 Prophet 600
click image to enlarge - Bild klicken zum vergroessern
other SEQUENTIALCIRCUITS gear..


ABOUT a modernized Prophet 5 and microprocessor generated ENVs. first midi synth (along with the Roland Jupiter 6), and: cheaper.
ABOUT ein modernisierter Prophet 5 mit erstmals Microprozessorgenerierten Hüllkurven. erster MIDI Synthesizer (zusammen mit dem Roland Jupiter 6)!
ABOUT
DETAILS has filterFM (polymod), first midi synth - first models only had omni mode, can be set to poly .. the "cheaper" version of the P5... the parameters were more "stepped" and some mod routings have been removed compared to the Prophet 5 but it was much cheaper and had to compete with the polysix and other poly synthesizers in the 80ies.. anyway it still sounds comparable.. the difference: it has no noise generator and pwm is missing in poly mod section. the 1983 released p600 was the first midi equipped synth to talk to the jupiter 6 (same time) in omni mode and later ones in poly mode.. (very few) the weak point on the p600 is the keypad like the sitraks keypad this is the weakest thing to check for before getting one.. HARDWARE: 12 CEM3340 VCO 6 CEM3372 VCF/VCA 4 CEM3360 Dual VCA
DETAILS hat filterFM (polymod), erster Midi Synth, hatte jedoch nur wenige MIDI-Möglichkeiten. Erste Modelle verstanden nur Omni on, ist aber abschaltbar.. immerhin gibt es aber immernoch die polymod sektion! HARDWARE: 12 CEM3340 VCO 6 CEM3372 VCF/VCA 4 CEM3360 Dual VCA
DETAILS
SOUND all perkussive , pads bass - not as flexible for experimental or noisy sounds because it is no noise generator and a bit reduced mod section but one more voice, due to memorization lower resolution of parameters.
SOUND alles perkussive pads bass, durch fehlende noise und etwas reduzierter polymod nicht ganz so ergiebig wie der p5, hat aber eine stimme mehr. etwas stufige Parameterauflösung.
SOUND
VERSION early versions had only rudimentary midi features (omni mode)
VERSION früher versionen hatten nur omni mode (midi)
VERSION