Sixtrak Analog Synthesizer + real time sequencer
Sequential Circuits
Sixtrak
SPECS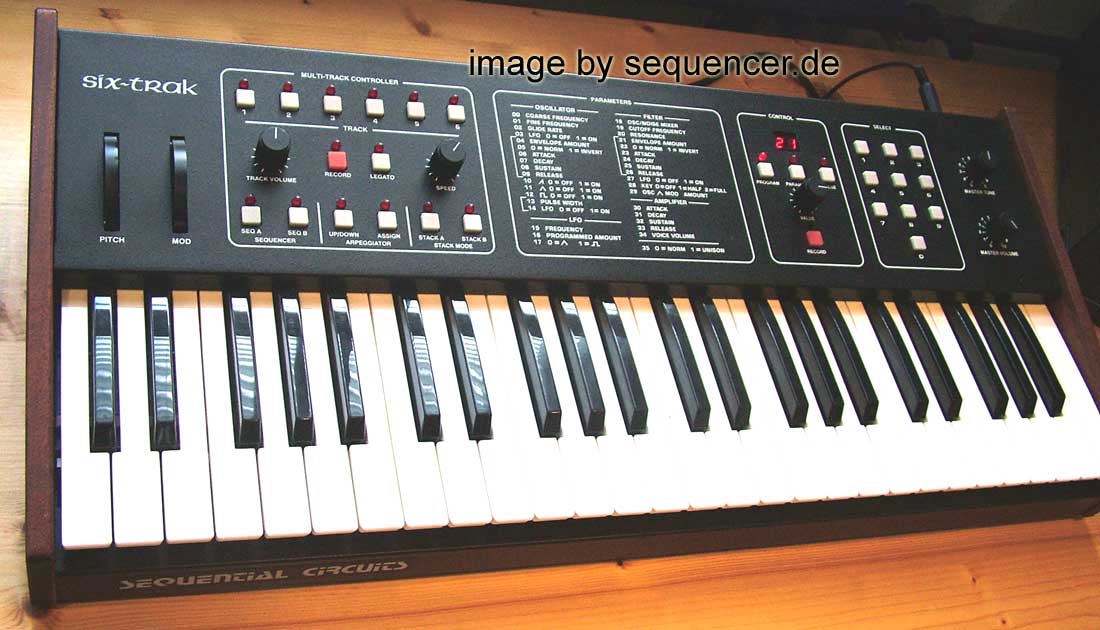 Sixtrak
click image to enlarge - Bild klicken zum vergroessern
other SEQUENTIALCIRCUITS gear..


ABOUT little multitimbral Synth. At the time of release midi was new and multitimbral synths something very unusual.
ABOUT Kleiner multitimbraler Synthesizer (zu der Zeit war Midi neu und Multitimbralität nicht selbstverständlich)
ABOUT
DETAILS in dual mode it sounds nice, fast LFO. waves can sound simultaneously. HARDWARE: 6 CEM3394 uP Voice CEM3372 Filter/Mix/VCA - one of the first mono mode midi synthesizers. 6 voices. and a very simple sequencer. todays view: you can switch it to double mode and tune up the LFO for nice FM filtering.. it's only one VCO per voice, thats why it's better to go to dual mode.. stable but you need a nice info about the progging stuff (midi and stuff is progged by those numbers on the right side!.. the parameters are printed on the case.. but the midi stuff isn't..) -eg: double mode is track rec & select 2 -midi clock input: speed full left -prog change enable/disable: ctrl rec.+1 -local on: track rec.+7 -local off: track rec+8 -wheel/param.change: ctrl rec.+4 -dump to midi:ctrl rec+2 -dump all 100: ctrl rec+9 dump seq: ctrl rec+0 midi modes: omni on: track rec+1 poly on: track rec+3 mono on:track r.+4 good to know, huh?
DETAILS schneller LFO, im dual mode bekommt er 2 VCOs, dann klingt er auch fett. waves können unabhängig aktiviert werden (und gleichzeitig erklingen). HARDWARE: 6 CEM3394 uP Voice CEM3372 Filter/Mix/VCA
DETAILS
SOUND has a fast LFO, so it's good for FX.
SOUND FX sounds liegen ihm, da er einen schnellen LFO hat.
SOUND