Split Eight , Split 8 Analog Synthesizer
Sequential Circuits
SplitEight/Split8
SPECS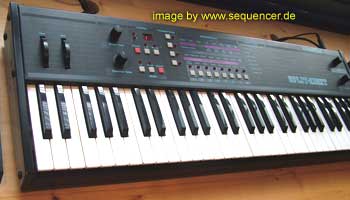 split 8
click image to enlarge - Bild klicken zum vergroessern
other SEQUENTIALCIRCUITS gear..


ABOUT little multitimbral Synth. quite like a bigger Sixtrak with Layers and unison Sounds (fat)
ABOUT In vielerlei Hinsicht ein großer Sixtrak, LFO leider nicht ganz so schnell wie dessen, dafür aber Layerbar und damit toller Unisono-Sound.
ABOUT
DETAILS in dual mode it sounds nice, 4th mode even cooler: 4 VCOs at once, thats fat.waves can sound simultaneously.
DETAILS im dual mode bekommt er 2 VCOs, dann klingt er auch fett, es gibt auch einen 4er Mode, das ist fett. waves können gleichzeitig gehört und aktiviert werden.
DETAILS
SOUND Fat basses and lead (in 4x layer mode)
SOUND fett, wenn er als Layer-Synth genutzt wird! Bässe und Leads!
SOUND