Modular Modular Synthesizer + analog step sequencer
SPECS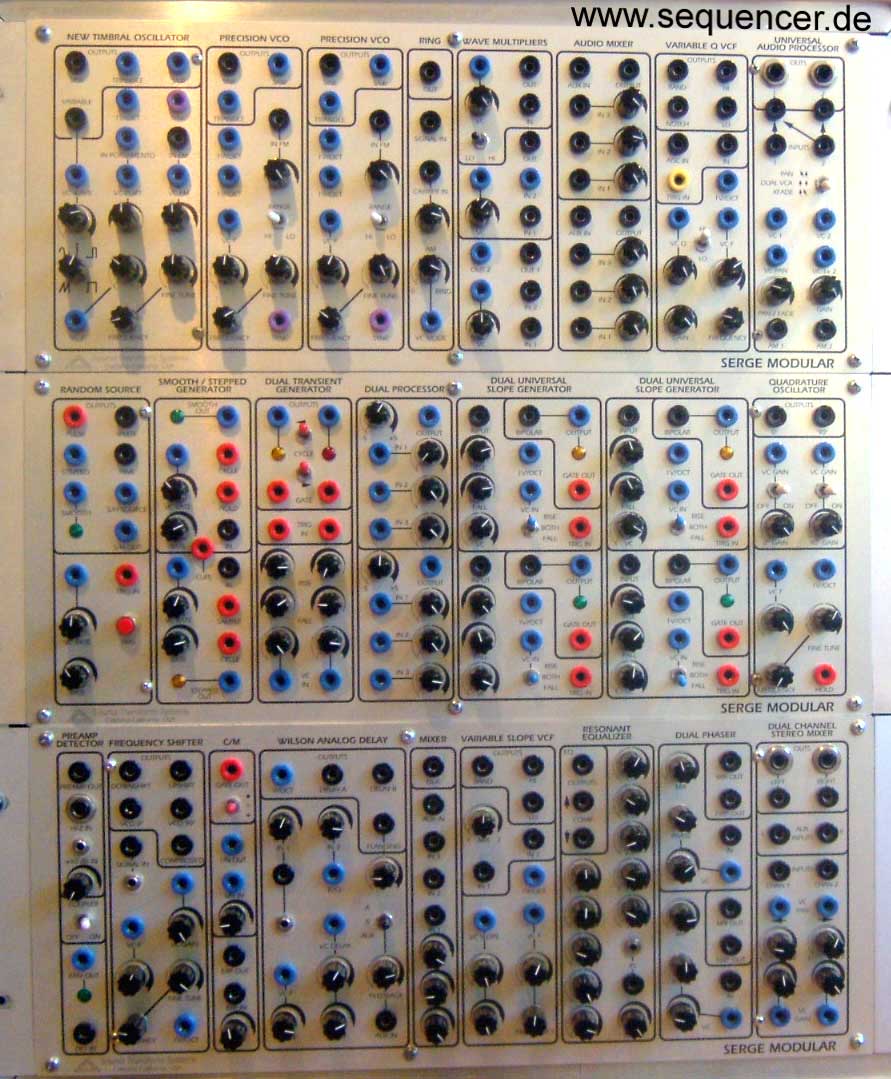 thx for the nice Serge pic: Ross Healy
click image to enlarge - Bild klicken zum vergroessern
other SERGE gear..


ABOUT Serge is rare, it's made by the Serge Tcherepnin he lives in the us (russian name, true! stems from France) - serge modulars were available as DIY kits in the past. Serge still producing Modules.still produced. I still mark the VCOs etc, 999 (unfinite), but the modules are "fixed". Serge is now Rex Probe who did it all for the recent 12 years..
ABOUT Serge ist recht exklusiv und wenige haben einen, Serge Tcherepnin lebt in den USA, trotz des russischen Namen (er kommt ursprünglich aus Frankreich). Serge gabs auch als Bausatz, heute jedoch nicht mehr.. Serge wird noch gebaut. Auch hier schreibe ich sporadisch 999 für unendlich in die Anzahl, jedoch sind die Module "fest".. Serge wird von Rex Probe geführt..
ABOUT
DETAILS Serge uses banana jacks. it is in fact modular, but the module configuration - there are quite unusual modules like smooth/stepped gens and quantizers, transient generators (more than one) etc.. even digital modules: shift registers etc.
other modules are Divide N, which is (as most modules) a bit more function packed than a standard divider.. works with audio and control voltages. VCAs have panners. nice random source noise gen with s/h
DETAILS Serge ist zwar modular, jedoch sind die Zusammenstellungen "fest",das System arbeitet mit Bananensteckern.

2 Sequencer gibt es: es gibt 4 lines mit 16 steps oder 2x8.

filter: div varianten. darunter ein EQ, 6-18 dB/ oct und 12 dB varianten gibt es ansonsten. auch ein variables bandbreiten-modul

oscs sinds ohne oktav-schalter und lin modulationsmöglichkeit (FM!) - arbeitet auch als LFO
DETAILS
SOUND everything.. it's modular - it's sound is precise - the serge philosophy is simple: no distortion - if you want it, you have to do it, but the modules do not "saturate".. that is not bad..
SOUND alles, es ist modular und das serge klingt gut, es ist aber auch "sauber", denn die serge philosophie ist klar: es soll nur verzerren, wenn man es will.. das hat vor und nachteile..
SOUND
VERSION several combinations
VERSION div module. s. tech.
VERSION