DK80, EX8500 Analog Synthesizer + simple sequencer
SPECS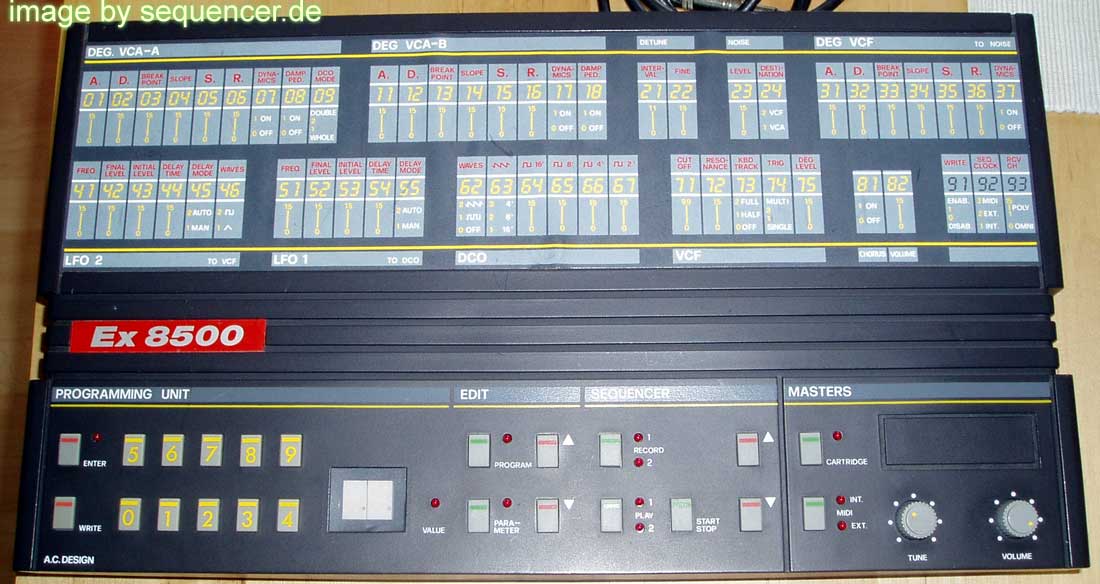 thx Deusi for ex 8500 expander version.
(
link
)
click image to enlarge - Bild klicken zum vergroessern
other SIEL gear..


ABOUT somewhat ugly Poly800-like control interface (value/parameter list), has 2 LFOs and filters, so it is a split synth.. and: not very successful (possibly the design?) - also sold as Suzuki SX 500.
ABOUT Etwas extravagantes, ehm haessliches Design mit Poly800-Bedienung, aber es gibt eine Art Split Konzept, in dem je 2 Filter,VCOs etc.. ihren Dienst tun..
ABOUT
DETAILS split synth concept with 2 LFOs and 2 filters, all analogue plus 6 parameter envelopes
DETAILS split konzept mit immerhin 2 LFOs und 2 filtern und 6 filterparametern.. simpler sequencer (für 2 spuren)
DETAILS
SOUND sequencer-blips, basses, strings / pads..
SOUND sequencer-sounds, bässe, strings, flächen etc..
SOUND