MTX9 Drummachine/Module
SPECS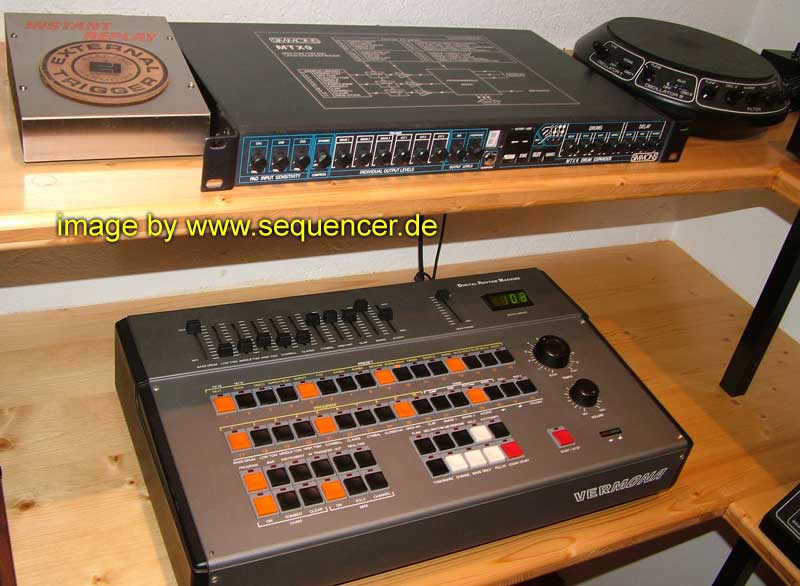 upper mid top: Simmons mtx-9
click image to enlarge - Bild klicken zum vergroessern
other SIMMONS gear..


ABOUT 20 factory and 20 programmable sounds that are arranged in 2x4 banks of 5 (as on the SDS9). It is a standard 1U 19" rack mounting unit. pad inputs or via MIDI.

ABOUT Kleines Drumrack mit 20 Werks und 20 eigenen Sounds, wie beim SDS9 organisiert, Pad Inputs und MIDI hat es auch.
ABOUT
DETAILS analog with FM and some digital sounds can be produced.

parameter: pitch, shift, sample
delay / echo slapback fx.
DETAILS FM und Analog und ein paar digitale Klänge sind machbar.
DETAILS
SOUND drums, new wave + electro, made as tom and latin expander f. SDS9 / 7 sounds are unreal enough to like it, still.
SOUND e-drums, new wave + electro gedacht als expander für SDS 9 oder 7 für toms und latin perkussion, sind aber nicht immer so realistisch, daher ganz nett
SOUND