Mars , Planet 7, P7 Analog Synthesizer
SPECS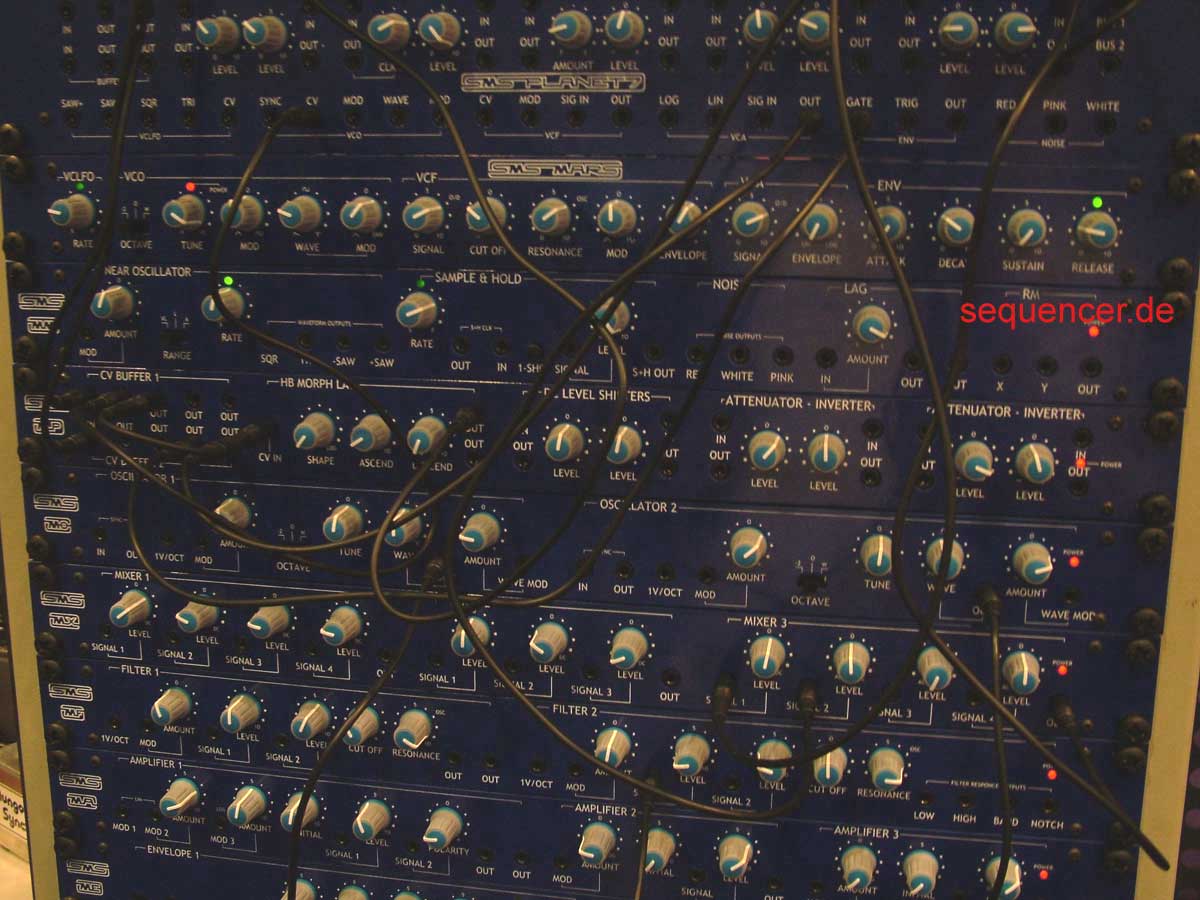 SMS Mars from UK
click image to enlarge - Bild klicken zum vergroessern
other SMS gear..


ABOUT Modular Series, open Architecture
ABOUT Modulare Serie, offene Architektur
ABOUT
DETAILS Moog Kaskade and "Oberheim" 12dB Multimodefilter, really unconventional system - 19" Racks contain what "normal" modulars offer in their modules plus a full range synthesizer to start with and to connect via another box (BOB).. interesting concept without the need of extra cabinets etc.
DETAILS Moog Kaskade und "Oberheim" 12dB Multimodefilter - Interessantes Konzept in 19" Racks, Basissystem und Verbindungsmodule und die klassischen VCOs,VCFs etc gibt es jeweils einzeln, ungewöhnlich und blau!
DETAILS
SOUND Everything Basses and more modular stuff, sounds great.
SOUND Filtermonster und Bässe, komplett modular - klingt wirklich gut.
SOUND
VERSION Mars System:

Mars: Little 1VCO Synth Basis
Planet7: connects 2 Mars - offers Sync, S/H, etc.
BOB NZ s, RM
BOB RM Break out Box f. Mars
Dual VCO
Dual VCF
Dual Env
Multi S/H, Noise, Ringmod & more
VERSION Mars System:

Mars: Kleiner 1VCO Synth
Planet7: Verbindet 2 Mars - bietet Sync, S/H, etc.
BOB NZ s, RM
BOB RM Break out Box f. Mars
Dual VCO
Dual VCF
Dual Env
Multi S/H, Noise, Ringmod & m
VERSION