LXR Drummachine/Module + TR sequencer
SPECS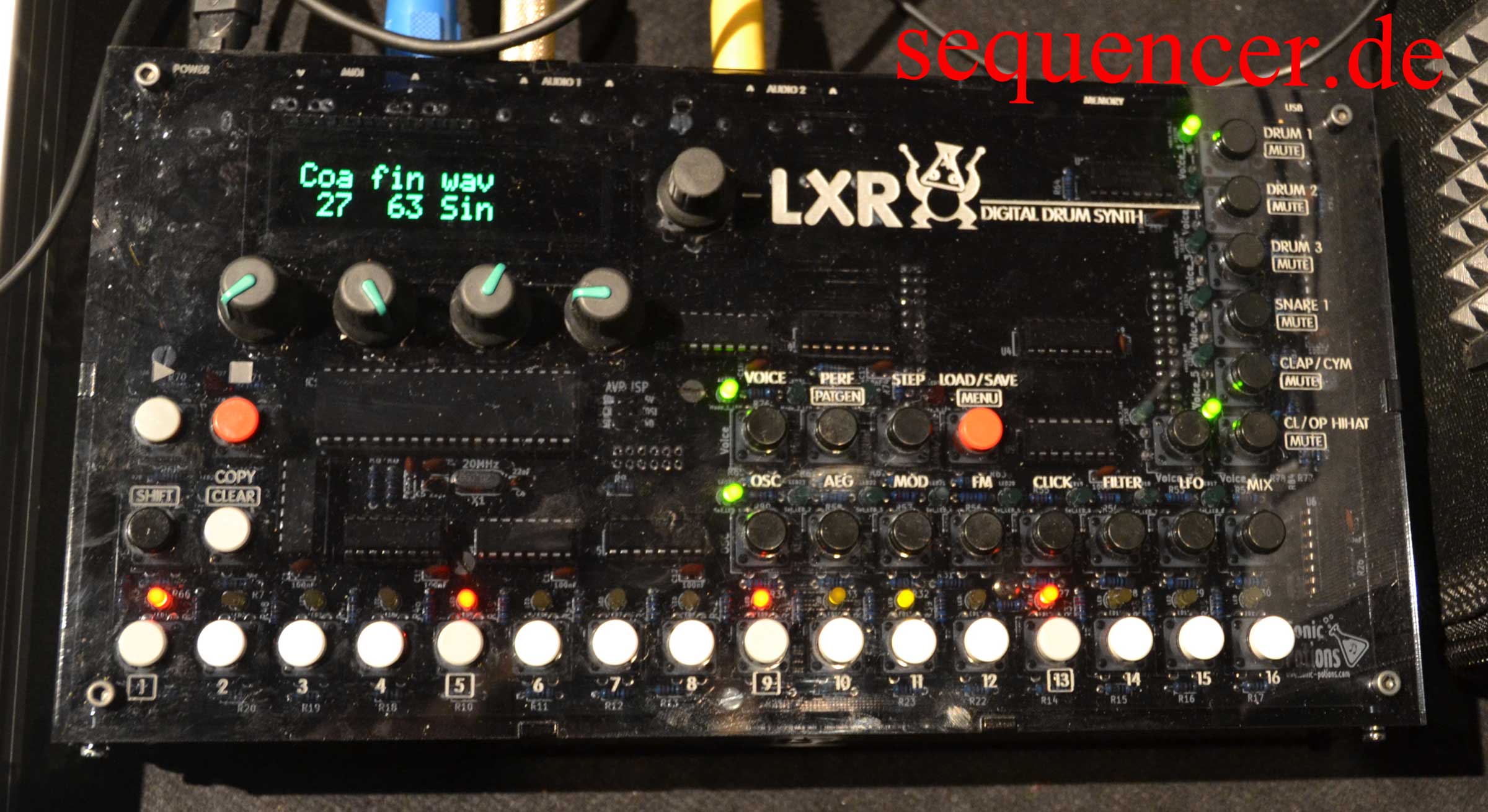 LXR
click image to enlarge - Bild klicken zum vergroessern
other SONIC POTIONS gear..


ABOUT This drum machine has 6 instruments, these are generated separately in little drum synth models comparable to the Elektron Machine drum.

But the LXR has more - 128 steps available for one measure - so it is not just 16 steps like other drum machines. even set to higher resolutions.

the LXR was delivered as a DIY Kit in batches, sold very well. and - it is hackable! open source.
ABOUT Diese Drummachine wurde zuerst im Forum bekannt gegeben als Bausatz. Mittlerweile wurden mehrere Ladungen von Kits ausgeliefert

Sie hat einige Innovationen. Live und TR-Sequencer sind drin, aber der TR Sequencer hat 128 Steps für einen Takt.

Der Synthese besteht aus internen Drumsynthesizern, vergleichbar mit der Elektron Machinedrum. Und die Maschine ist hackable, man kann also auch selbst Hand anlegen.
ABOUT
DETAILS there's an extra track for MIDI control of an external synth.

drum sounds can trigger MIDI synths as well.

8 patterns can be chained.

per step you can set a probability to allow this step to be played sometimes or not (randomly). Stochastic Mode!

USB / MIDI

accepts some samples to be used along with the drum synth models.

Pitch Envelope is a simple Decay Time
DETAILS Es gibt eine Spur für die Steuerung externer Synthesizer via MIDI.

Die Drumsounds können ebenfalls MIDI versenden.

Außerdem gibt es sehr hohe Auflösung der Patterns!

8 Patterns können verkettet werden.

Per Step Probability können an Step-Posiotionen "wahrscheinlich" gesetzt werden, dann werden sie mit einem gewissen Zufallsgrad gespielt werden (oder nicht).

MIDI / USB

Akzeptiert ein paar Samples bis das RAM voll ist.

Pitch Hüllkurve: Decay
DETAILS
SOUND anything electro, especially those in need of high resolution drum grids!
more sophisticated!

nice for live variation as well.
SOUND Elektro Drums für alle Zwecke, aber besonders für neuere komplexe Musikstile und Variationen eignen sich generell für alle, die nicht einen einfachen Beat durchrennen lassen wollen.
SOUND