Synare 2 Drummachine/Module + step sequencer
SPECS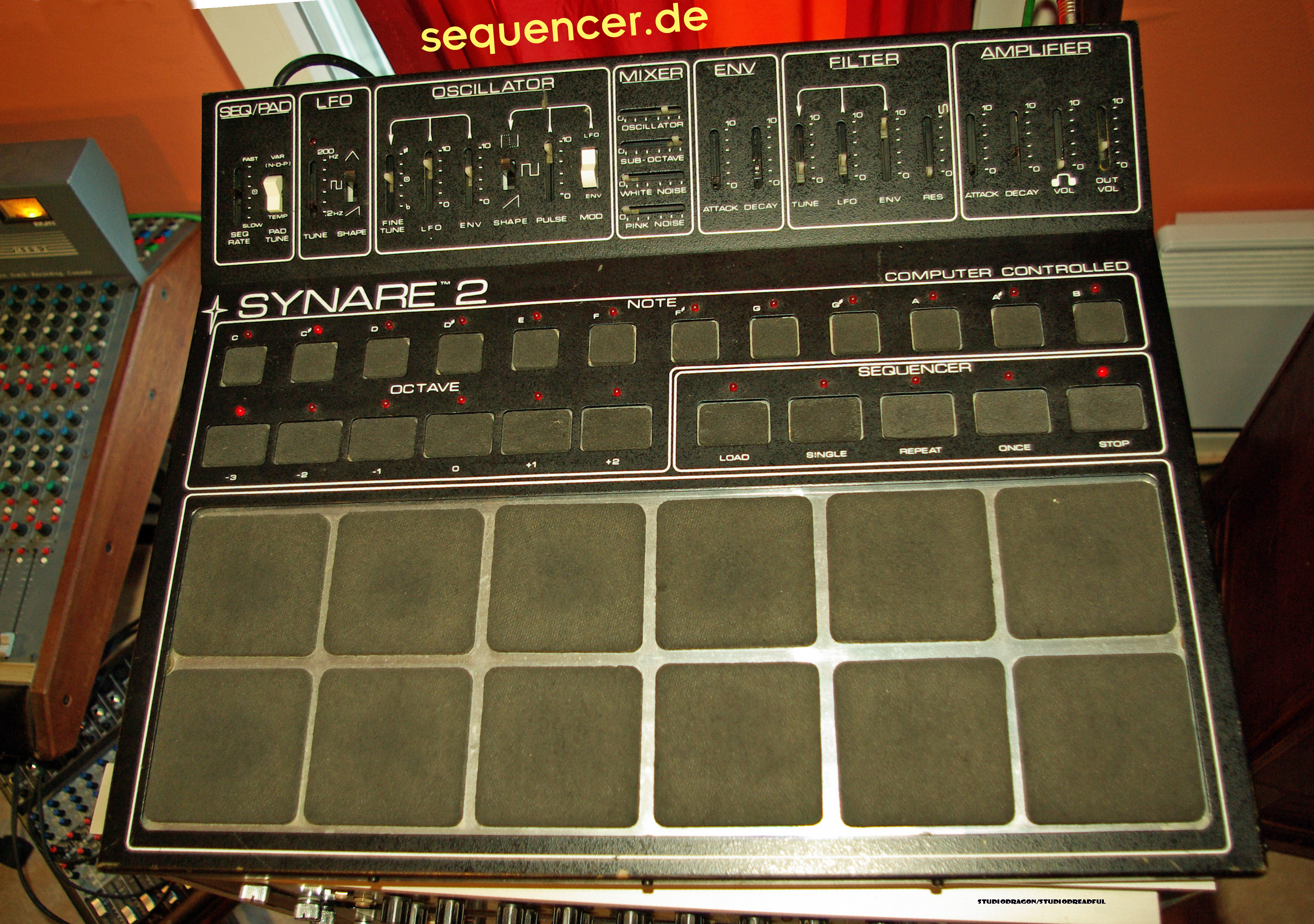 Patroche & Studiodragon/Studiodreadful
(
link
)
click image to enlarge - Bild klicken zum vergroessern
other STARINSTRUMENTS gear..


ABOUT Drumsynth with Drum Pads. you can play it melodically as well. it has a sequencer on board, therefore it is a bit more than just a drum synth (Bass).

it was quite ahead of it's time, so it was made until 1982 when new wave was in it's best time.

it's a percussion synthesizer and digital sequencer it says on the box.
ABOUT Drumsynthesizer mit Schlagflächen, der aberauch tonal spielbar ist. Außerdem ist auch ein Sequencer an Bord.

Die Welle der E-Drums hat noch gar nicht begonnen. Deshalb wurde dieses Teil bis 1982 gebaut. Alles schön old-school analog.

Percussion Synthesizer & digital Sequencer ist der offizielle Druck auf dem Gehäuse.
ABOUT
DETAILS 2 OSCs with Noise, Filter with Decay and AMP with another Decay Envelope.

Note it has pulse with modulation and a sub oscillator, so it is quite unsual and more a classic bass synth in structure.

mixer for 4 sources: 2 noise colours, osc and subosc.

filter: SSM2040
Synth has 7 Octave range.
DETAILS 2 Rauschtypen und ein Oszillator mit Pulsbreitenmodulation ist ungewöhnlich für einen Drumsynthesizer, aber er hat es - er ist irgendwie beides.

Und es gibt einen Suboszillator. Er ist somit fast mehr ein klassischer Bass-Synth.

Mixer für beide Rauschtypen, Osc und Subosc.

Filter: SSM2040
Der Synthesizer hat satte 7 Oktaven Umfang.
DETAILS
SOUND new wave + electro drums
SOUND new wave + electro drums
SOUND
VERSION Synare 1-3, 2: with Memory / melodic, Synare 1: first one
VERSION Synare 1-3
VERSION