Synthacon Analog Synthesizer
SPECS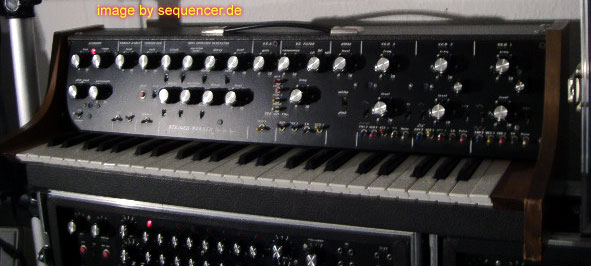 Synthacon
click image to enlarge - Bild klicken zum vergroessern
other STEINER PARKER gear..


ABOUT very interesting FM-capable synth and minimoog competitor
ABOUT sehr interessanter Minimoog-Konkurrent ,der FM zwischen den VCOs zuließ.
ABOUT
DETAILS stable 3 VCOs that can mod other VCOs (FM!), also multimode filter. . sample + hold. no thin sounds with higher resonance. master clock triggers envelopes and s+h clock.
DETAILS 3 VCOs können sich gegenseitig modulieren (FM!) und es gibt sogar einen multimode filter! Stimmstabil. sample + hold, kaum bassverlust bei resonanz. master clock triggert hüllkurven und füttert s+h clock.
DETAILS
SOUND fat, rare and expansive these days, nice FX (fm!) and basses, big basses..
SOUND bässe, FX und alles, was ein minimoog auch kann.. fett! selten! teuer!
SOUND