Microcon , Cyclodon , Microcon 2 Analog Synthesizer + analog step sequencer
Technosaurus
Microcon/Cyclodon/Microcon2
SPECS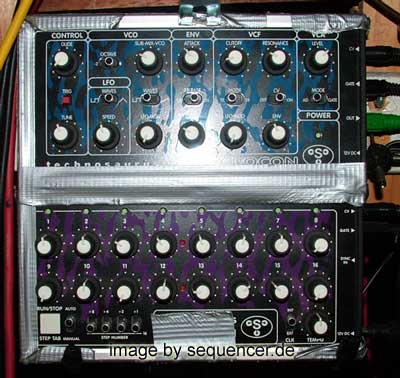 Microcon (cv-gate) + Cyclodon
click image to enlarge - Bild klicken zum vergroessern
other TECHNOSAURUS gear..


ABOUT Technosaurus, Jürg Oldani producer of the well known Modulars also has 2 little machines on the market: the microcon 2 and the cyclodon (a nice little step sequencer) the structure of the cyclodon is this: 12 or 24dB/oct LPF with resonance of course, a simple envelope, an LFO with 2 waveforms (tri/pulse 50% duty cycle), all of them got mod knobs (LFO), there are models with midi and CV/gate control! quite a lot for this size ;)) one of the highest quality sounds out of this box that is about the size of your hand ;) swiss made,too cyclodon 16steps.
ABOUT kleinstsynthesizer mit ähnlichen möglichkeiten wie tb303, eher noch mehr, cyclodon: 16step sequencer.
ABOUT
DETAILS simple synth: micron with cv-gate, microcon II with midi, cyclodon
DETAILS einfacher Synth.. microcon II mit midi, micron mit cv gate, cyclodon arbeitet analog 16steps
DETAILS
SOUND basslines
SOUND basslines
SOUND
VERSION microcon II: with midi, first version: cv/gate analog
VERSION microcon II: mit midi, sonst cv/gate analog
VERSION