Selector , Modular Modular Synthesizer
Technosaurus
Selector/Modular
SPECS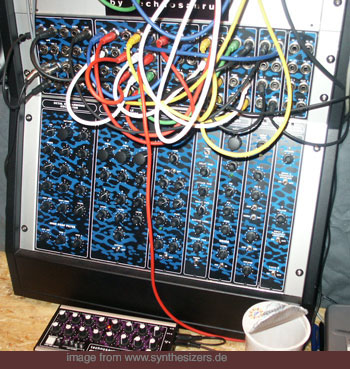 Selector modular
click image to enlarge - Bild klicken zum vergroessern
other TECHNOSAURUS gear..


ABOUT high quality modular system from jürg oldani, switzerland. 4 Modular Systems A-D.
ABOUT klanglich sehr hochwertige System aus der Schweiz von Jürg Oldani, 4 Systeme A-D
ABOUT
DETAILS fast envelopes, fine FM , the 4 systems A-D differ in size but you can order your own custom modular, too.. technosaurus selector modular synthesizer very special modules are the triple resonator and the OSO (subharmonic osc).. there are also moog-compatible modules avalable may 2003 fast envelopes, good and hi quality sound. fm also sounds good on this system. the new modules will also have lin and expo FM! beside the "re-format" also swiss made.. ;)
DETAILS schnelle gute hüllkurven, gute FM klänge, die systeme A-D sind vorallem in Größe unterschiedlich, man kann sich auch ein eigenes zusammenstellen. spezielle module sind sicher der OSO (subharminscher OSC, also ein multiOSC) und der 3fach Resonator..
DETAILS
SOUND well everything is possible..
SOUND ALLES ist möglich! theoretisch natürlich.
SOUND
VERSION VCO Voltage Controlled Oscillator VCF2 Voltage Controlled Multimode Filter DENV Dual Envelope Generator ENV Single Envelope Generator VCA Voltage Controlled Amplifier LFO / N Low Frequency Oscillator / Noise S&H / R Sample & Hold / Random Generator DWS DualWaveShaper OSO Octal Subharmonic Oscillator TRES Triple Resonators MIDI Control MIDI with 8 different outputs
VERSION VCO Voltage Controlled Oscillator VCF2 Voltage Controlled Multimode Filter DENV Dual Envelope Generator ENV Single Envelope Generator VCA Voltage Controlled Amplifier LFO / N Low Frequency Oscillator / Noise S&H / R Sample & Hold / Random Generator DWS DualWaveShaper OSO Octal Subharmonic Oscillator TRES Triple Resonators MIDI Control MIDI with 8 different outputs
VERSION