110F Analog Synthesizer
SPECS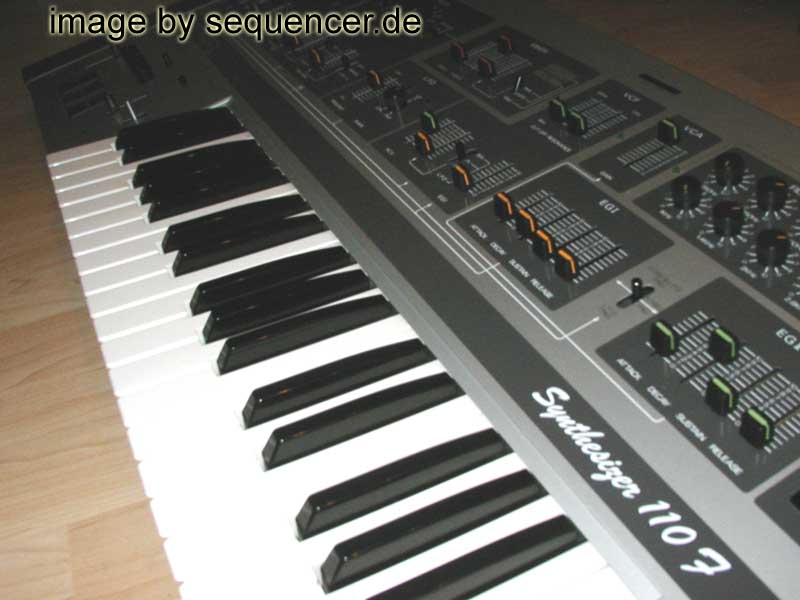 Teisco (Kawai) 110F thx for pic to Plasmatron
click image to enlarge - Bild klicken zum vergroessern
other TEISCO gear..


ABOUT Kawai / Teisco big Synthesizer with fixed Filter bank!! updated version (and bigger) of the S60F
ABOUT Kawai / Teisco großer Synthesizer mit Festfilterbank (!), eine verbesserte Version des S60F
ABOUT
DETAILS lfo triggerable ENV. 20Hz LFO , VCOs can be set to LO (LFO use) 110F it's strange, some technology of this synth came from ARP, it has a fixed filter bank , 2 VCOs and 2 ADSR envelopes. similar to ARP it has one lfo with 20hz max only and a self reso 24dB/oct LPF with "roland type" fixed HPF. the lfo can trigger the ENVs, ringmod is on board, too. it's VCOs have a very large range from LFO/low to 64' to 4'!! goood for ringmod noises! the mixer does not allow ringmod and noise at the same time but it's white or pink noise then..
DETAILS lfo triggerbare ENVs. 20Hz LFO, VCOs können auf LO gestellt werden (LFO)
DETAILS
SOUND bass, leads and more, nice FX
SOUND bass , leads und co.. FX
SOUND
VERSION was made by Teisco and Kawai under both names as 110F (same company)
VERSION gab es von Teisco und Kawai unter gleichem Namen (gleiche Firma!).
VERSION