Perfourmer Mk 2, Perfourmer Mk II Analog Synthesizer
Vermona
PerfourmerMk2/PerfourmerMkII
SPECS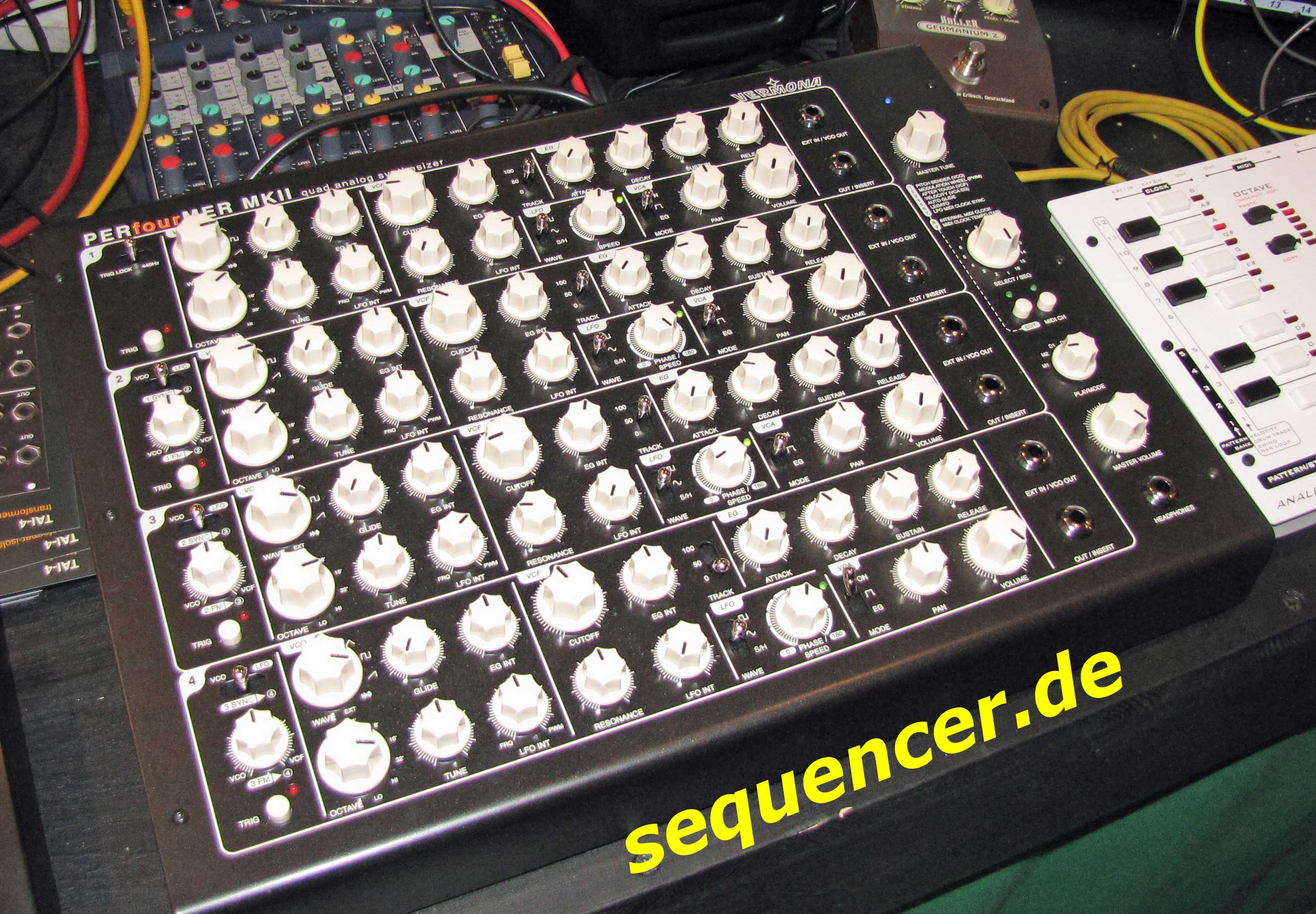 click image to enlarge - Bild klicken zum vergroessern
other VERMONA gear..


ABOUT Like the old Per4mer but with hard syncable VCOs slightly larger and the LFO can be clocked by MIDI now.

The Per4mer is basically 4 synthesizers in one box, they can be rotated like on the Oberheim 4-Voice or rearranged and FM each other, so this makes it 2 FM synths or one fm synth with 4 FM sections incl. filters. also unison mode is possible.
ABOUT Wie der alte Per4mer, aber mit Syncmöglichkeit der VCOs und auch der LFO ist zur MIDI-Clock synchronisierbar.
Insgesamt ist er etwas größer und andere Knöpfe gibt es auch.

Der Per4mer besteht eigentlich aus 4 Synthesizern, alle 4 Sektionen können mitsamt Filter als FM-System benutzt werden. Er erlaubt ein rotieren der Stimmen, wie beim Oberheim 4-Voice.. auch je 2 fm sektionen sind nutzbar. unisono mode. gibt es auch.
ABOUT
DETAILS simple concept? well it's 4 ADSRs along with 4 LFOs (max. 66Hz) that can be integrated into the FM, and: the filter counts in here so only 2 synths can create very complex interesting modulation ..
DETAILS einfaches Konzept mit insgesamt 4 ADSRs und LFOs (max 66Hz) kann man aber mehr anfangen, als man denkt.. da durch FM und die Filter sehr komplexe Klänge aufgebaut werden können, der LFO ist dazu nocht sehr schnell..
DETAILS
SOUND analog basses and real fat analog basses and.. special FX also pulsating modulation basses by rotation..
SOUND analoge Bässe bis sehr fette analoge Bässe aber auch spezielle Klangeffekte (wegen der FM) und modulierende wabermodulationen durch Stimmrotation.
SOUND
VERSION Perfoumer Mk1: a bit smaller and has no sync (VCOs, LFOs not synchable via MIDI clock)
VERSION Perfourmer Mk1: war etwas kleiner und hatte keinen Sync
VERSION