Synthesizer Analog Synthesizer
SPECS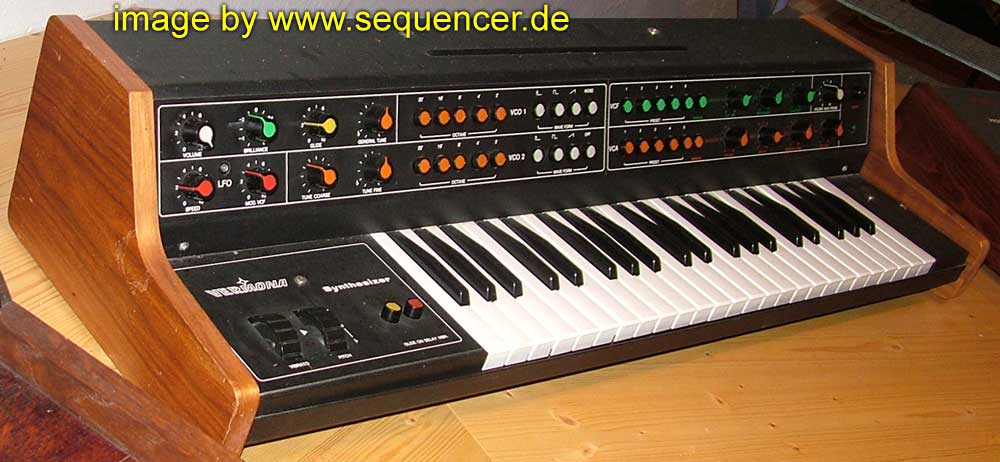 vermona synth
click image to enlarge - Bild klicken zum vergroessern
other VERMONA gear..


ABOUT the former eastern german company finally were allowed to make this synth but those, who had to decide above their heads said: no one need such a thing, sad thing because it wasn't bad.. later when germany united they came back to the idea making a synthesizer..

unconventional Control Voltage interface (something like logarithmic..)
ABOUT Der erste Synthesizer von Vermona war durch die Situation im Osten Deutschlands zu sein leider auch der einzige geblieben "sowas braucht man doch nicht", so blieb leider der Synthesizer nicht nur ohne wirklichen Namen sondern mit dem Tiracon 6V der einzige aus dem Osten, der Vermona Synthesizer 2 wurde nie gebaut.

Steuerpannung (CV) ist leider in etwa logarithmisch, MIDIfizieren wird also eher umständlich, jedoch lösbar.
ABOUT
DETAILS simple synth with ADSR env and 2 VCOs..
DETAILS recht einfacher synthesizer, ADSR und 2 VCOs..
DETAILS
SOUND typical analog stuff.. basses + more..
SOUND analog typisches.. bass und co
SOUND