Bass Synthesizer AP6 Analog Synthesizer
SPECS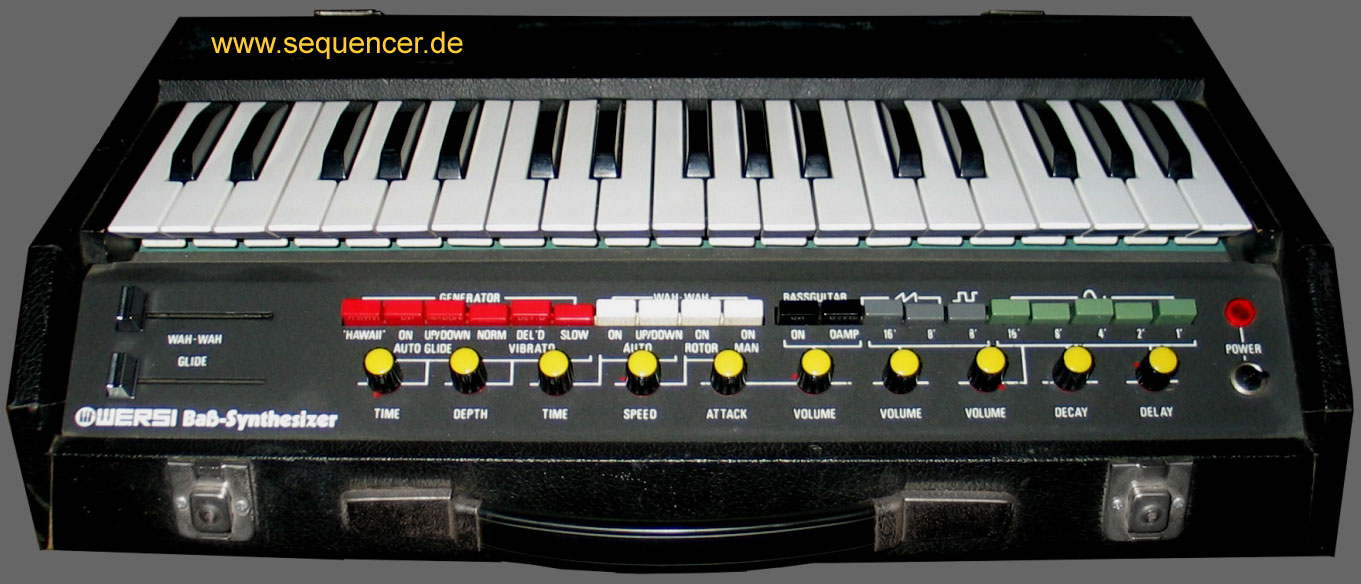 Wersi Baß Synthesizer pic thx Bernie
(
link
)
click image to enlarge - Bild klicken zum vergroessern
other WERSI gear..


ABOUT the german Organ makers Wersi built this Bass Synthesizer (in german it is written with sz = ss = ß) in around 77, it has some special features and loooks also different.. DIY and assembled versions were offered (same with the biggest competitor Dr.Böhm = Boehm)
ABOUT kleiner Baß-Synthesizer (so schreibt er sich eigentlich) vom als Synthesizerhersteller eher unbekannten Orgel-Hersteller mit ein paar speziellen Features wie Wah.
ABOUT
DETAILS env controlled wah with own LFO

2 Waveforms Sections with saw (8,16') or square (8') and sinewave (16' to 1'), so you can add some octaves - kind of multiple subosc since you can use them all together! and another ENV (AD/R)

also noise (for attack phase) can be set.

the hawaii button is simply glide!
DETAILS eine Bank mit Sinus-Wellenformen 8-1' mit eigenem "Noise-Attack" Regler,
Sägezahn auf 8 oder 16' oder alternativ 16' (eigener Volumeregler)

LFO mit festen Geschwindigkeiten (slow,norm) für Vibrato, was auch eingefadet werden kann (del'd oder ohne - also nicht regelbar)

dazu Wah mit Hüllkurvensteuerung (!) - AD(R)., kann durch LFO2 moduliert werden

achja, der Hawai Knopf ist einfach Glide.
DETAILS
SOUND bass
SOUND bass
SOUND