Orbit 3 Analog Synthesizer
SPECS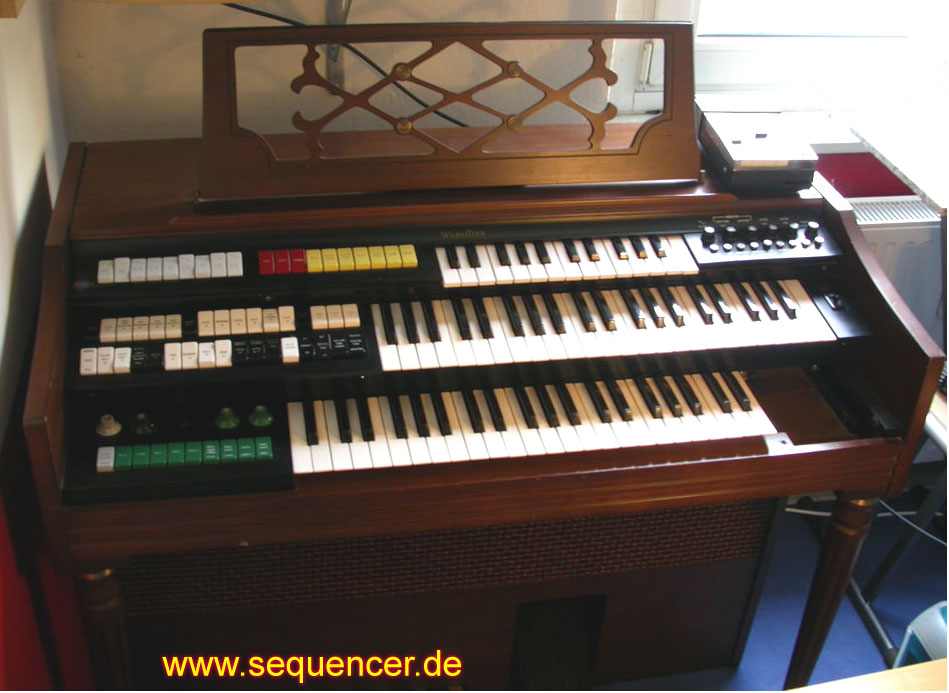 Wurlitzer organ Orbit3 thx "Alisa"
click image to enlarge - Bild klicken zum vergroessern
other WURLITZER gear..


ABOUT a combination of the biggest and most expensive organs at that time with 2 full polyphonic keyboards with another 3 octave minikeyboard of the orbit 3 synth (monophonic). there are drums also along with bass pedals.
ABOUT eine Kombination aus Wurlitzers damals teuersten Orgeln mit 3 Manualen (vollpolyphon) und einem monophonen Minikeyboard, dem eigentlichen Orbit3 Synthesizer. Es gibt dazu noch Drums und Basspedale.
ABOUT
DETAILS the lfo is controlled / activated by aftertouch and mods the pitch. wahwah FX, spring reverb, chorus

drummachine (preset beats) built in - the aftertouch is just on or off.. so nothing in between..
DETAILS leichter druck steuer pitch LFO, lfo geht nur auf pitch. wahwah FX, hallspiral-reverb, chorus , drummachine (preset beats) eingebaut.

aftertouch - druck schaltet es ein, also nicht mehrstufig..
DETAILS
SOUND organ sounds with synth sound
SOUND orgel und syntheffekte
SOUND
VERSION the organs 605, 4573 + 4037 were available with the Orbit 3 synth, other models with Orbit 1 (375,415,370) or 2 (465)..
VERSION die Orgeln 605, 4573 und 4037 gab es mit dem Orbit 3, einige Vorgänger mit Orbit 1 (375,415,370) oder 2 (465)..
VERSION