CS10 Analog Synthesizer
SPECS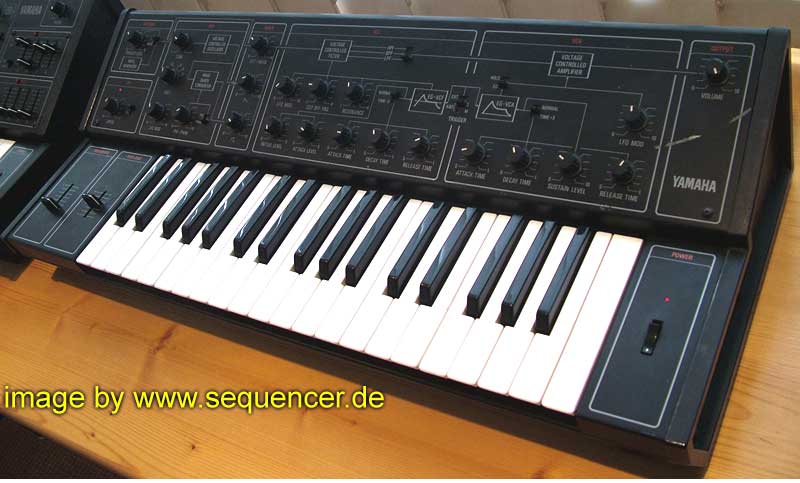 CS10
click image to enlarge - Bild klicken zum vergroessern
other YAMAHA gear..


ABOUT a smaller Version of the CS15, still fast ENVs.. but only one multimode Filter.CS = control synthesizer. unconventional CV (close to Hz/oct but it is different still)
ABOUT Eine etwas abgespeckte Version des CS15 er hat dennoch 2 schnelle ENVS aber nur ein Filter. Auch nur ein VCO. CS = control synthesizer. Der CS15 hat 2 "Channels", so kann er quasi wie zwei 1 VCO Synths arbeiten, aber der CS10 hat einfach nur einen, unkonventionelle CV steuerung: Hz/oct, heute aber kein Problem mehr.
ABOUT
DETAILS all envs can be switched to 5x the speed. (really fast and ambient speed).
DETAILS ext. input. alle envs haben speed schalter x5 sie sind sehr schnell in normalstellung
DETAILS
SOUND very fast envelopes, good for glitch , clicks and cuts and the like, but a bit simple compared to the larger CS's
SOUND Einfacher Synthesizer, besonderer Klang
SOUND
VERSION the CS series might bring alternatives CS 5,15, 30
VERSION die CS serie bietet Alternativen CS 5,15 und 30
VERSION